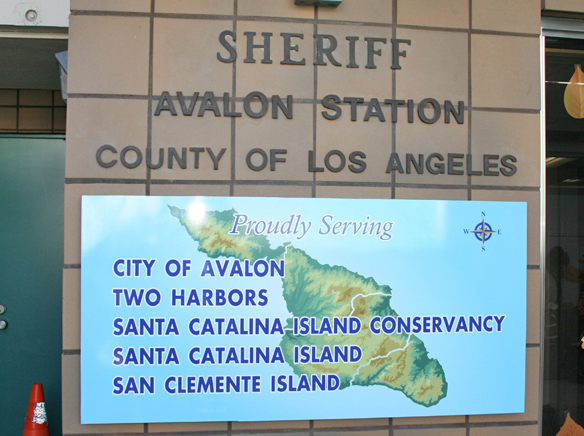 Editor's note: The following is the Avalon Sheriff's Station significant incidents report for the week of Jan. 15 to Jan. 21, 2020. All suspects are presumed innocent until proven guilty in a court of law. Many people who are arrested do not get prosecuted in the first place and many who are prosecuted do not get convicted.
January 15
• Deputies arrested Dominique Patrick from Avalon on suspicion of stalking a female Avalon resident and violating a restraining order protecting the same victim. The arrest occurred in the 200 block of Sumner Avenue.
January 16
• A vandalism occurred on Jan. 6, 2020, in the 100 block of Banning Drive.
The suspect has been identified.
The victim reported she is desirous of prosecution and the case will be presented to the District Attorney for filing consideration.
January 17
• Deputies arrested Luis Bastida from Avalon for allegedly being under the influence of an illegal controlled substance and possession of methamphetamine.
The arrest occurred on Casino Way.
January 18
Deputies arrested Keion Dade from Moreno Valley for suspicion of vandalism at 1 Cabrillo Mole. Mr. Dade was allegedly causing a disturbance at the Mole and ultimately damaged one of the "gumball" type fish food dispensers.
January 19
• Deputies responded to a family disturbance call at Pebbly Beach Village. Deputies determined the incident was an argument only and no crimes were violated.
January 20
• An Avalon student reported that another student was bullying her and threatened to assault her. The investigation is ongoing.
January 21
• Deputies responded to a bar in the 100 block of Sumner Avenue regarding a fight which occurred inside the bar near closing time. The victim was transported to the hospital and treated for his injuries. During the investigation, deputies arrested Juan Sotelo from Santa Ana, David Martinez from Santa Ana, and Juan Garcia from Los Angeles for allegations of assault.
Edgar Roque from Long Beach was arrested for an outstanding $26,000 warrant.
Safety Note
When adults respond quickly and consistently to bullying behavior they send the message that it is not acceptable.
Research shows this can stop bullying behavior over time.