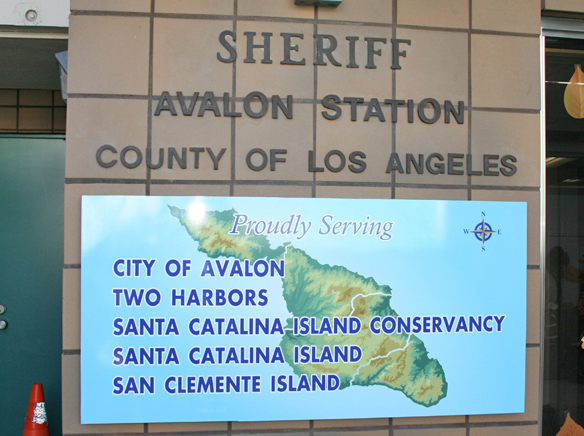 Editor's note: The fol-low—ing is the Avalon Sheriff's Sta-tion significant incidents report for the week of Feb. 24 to March 2, 2021. All suspects are presumed innocent until proven guilty in a court of law. Many people who are arrested do not get prosecuted in the first place and many who are prosecuted do not get convicted.
February 24
Deputies responded to the Botanical Gardens on Avalon Canyon Road regarding a male and female arguing while sitting in a golf cart. Deputies learned the two were only involved in an argument and no crimes had been committed. Deputies helped them work out their differences.
February 25
Deputies responded to a traffic collision near Banning Drive and Country Club Drive. A motorist lost control of her golf cart and fell from the cart. The golf cart subsequently went over the embankment. Alcohol or drugs were not a factor during this incident. The motorist did not suffer serious injuries.
February 26
Deputies were called to 131 Metropole Avenue regarding a landlord and tenant disturbance. Deputies learned the argument was about a lost package that had been delivered to the office. The package was located and returned to the owner.
February 27
Deputies responded to a traffic collision in the 300 block of Clemente Avenue. When they arrived, they learned the driver was allegedly driving drunk and collided into a fence damaging the fence and the rental golf cart. Deputies arrested a Sacramento resident for allegations of drunk driving. Curtis Clark, 24, Sacramento
Deputies arrested an Avalon man for a $7,000 outstanding warrant. The warrant was for being a minor in possession of alcohol. The man wanted to be responsible and take care of his outstanding warrant. Jaime Alaniz, 21, Avalon
Deputies responded to Marilla Avenue and Crescent Avenue regarding an assault call. Deputies learned an intoxicated victim was involved in an argument with a man about a female. During the argument the suspect punched the victim and left the scene prior to the deputies' arrival. The investigation is ongoing.
February 28
Deputies responded to the 100 block of Metropole Avenue regarding several adults fighting. When the deputies arrived, the fight was over and the disturbing parties had left the scene.
March 1
Deputies responded to the 800 block of Crescent Avenue regarding an argument over a parking space. Deputies learned during the argument, a suspect smashed the windshield of one of the vehicles. The investigation is ongoing.
March 02
Deputies were in the 300 block of Tremont Street when they arrested an Avalon resident for an outstanding $20,000 warrant. The warrant was for domestic violence and child endangerment charges. The suspect was placed under arrest for the outstanding warrant and will have a court date in the near future. Jose Vazquez, 43, Avalon
Safety Note: To ensure the city of Avalon can remain open to visitors, please continue to practice social distancing, and wear a face covering.