Astronaut trainee Alyssa Carson has always looked to the sky.  
Now 20, Alyssa knew she wanted to go to Mars by the age of 3. She attended her first space camp when she was five and never looked back, only up.
After a handful of years attending every space training for kids that she could find, NASA invited her at 12-years-old to discuss future missions to Mars as part of the MER (Mars Exploration Rovers). A year later, she was giving a TEDx talk in Greece.
Not long after that, Carson became the youngest person to be accepted into the prestigious Advanced PoSSUM Space Academy (the small "o" is part of its name), where she received the certification in applied astronautics, officially making her certified to do a sub-orbital research flight and venture into the cosmos.
This has been the life of Alyssa Carson. She was certified to go into space before she had her driving learner's permit. She had a private pilot's license before she was licensed to drive a car.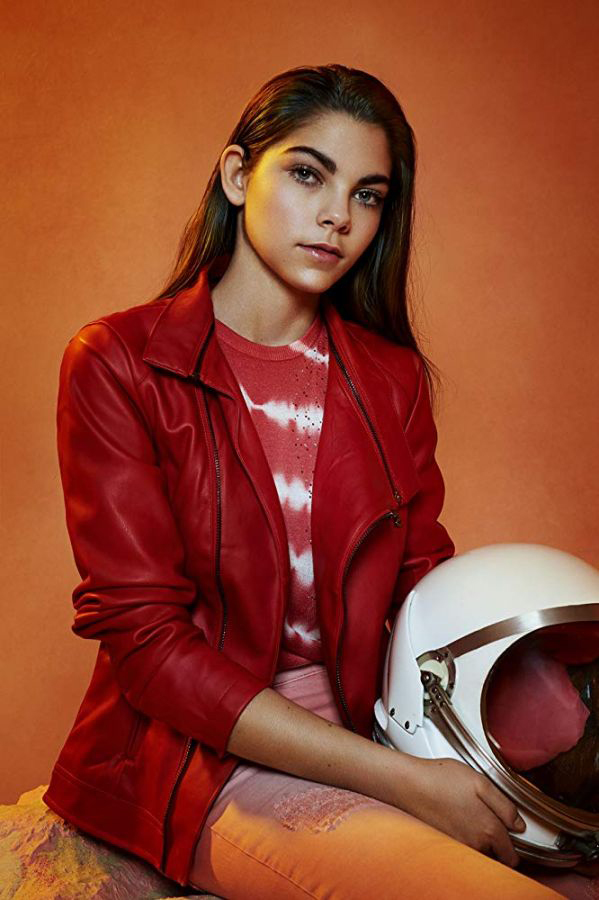 Nearly two decades on, Carson is one of the best-known young space enthusiasts in the world. She has a massive social media following focused on the next American phase of space exploration.
Carson knows what she wants and remains steely focused on being among the first humans on Mars, if not the first.
"We are the Mars Generation," Carson tells her audiences. "Together, we will do anything."
Carson leads a small group of inspired young Americans already positioning themselves to become astronauts for the next generation of spaceflight.
Currently enrolled in the master's degree Program at the International Space University, Carson already has a degree in Astrobiology from Florida Tech University.
She is a STEM evangelist, inspiring students everywhere to embrace STEM subjects that involve science, technology, engineering, and math and to use those skills to improve life on earth.
In fact, Carson has delivered TED talks in Europe encouraging young girls to pursue STEM careers.
Her call sign is NASA Blueberry, and the Baton Rouge native has already established the Blueberry Foundation to inspire kids to fulfill their dreams yet have fun at the same time.
"When I talk to other kids my age, I want them to realize they don't have to wait until college to start figuring out what they want to be. If you're interested in something, if you're passionate about it, you can start working towards it," says Carson.
"People give up on their dreams due to fear and worry. Never stop dreaming," says Carson.
"Never give up. Don't let anyone take your dreams away from you. This is a time for change," she says.
Thus far, Carson has:
• Attended every Space Camp available in the USA, Canada, and even Turkey.
• Is the youngest person to ever graduate from the Advanced Space Academy when she was only 16.
• Visited each of NASA's 14 Visitor Centers across 9 states, becoming the first person to complete the NASA Passport Program.
At 12, Alyssa was invited to join a NASA panel at a Mars Exploration Rover (MERS) event.
Alyssa has also written a book called "So, You Want to Be an Astronaut " to inspire kids
Alyssa educates as she inspires people about Space.
She has a large and growing following on social channels like YouTube, Instagram, and TikTok.
Her goal is to help understand the potential for human life in outer space.
"We're in a new era of space exploration and discovery. The world's attention is on outer space, but the greatest immediate benefit to humankind may lie in the stratosphere. When we reach it, we will be able to do extraordinary things," says Carson.
Carson realizes that the first humans to walk on the planet Mars must be ready to live there, and perhaps not come back.
Carson often refers to her science geeky friends as the "Mars Generation." Friends who share her enthusiasm for science and space she claims are in a generation that looks beyond the moon.
"Mars is the moon for us," says Carson.
Yet, Carson knows that a push in American public opinion, like that of the Apollo era, especially from young people, is what's needed to make sure the mission happens.
"The whole reason why we went to the moon was because there was so much public interest around it," Carson said. "I definitely think that Mars kind of needs that same push."
"So, it's kind of either teaching or inspiring to help people get involved in the space program in some way," she says.
Carson has indeed chosen to inspire. She has toured the world, training and giving lectures, Ted talks and making personal appearances seeking to inspire audiences.
Carson will visit Catalina Island Aug. 18 and 19.
On Wednesday, she is expected to meet with Jon Council, who operates the "Avalon Diving History Exhibit" Museum and is President of The Historical Diving Society.
Council has a four-decade diving career, including the past thirty-two of it as a scientific research diver, submersible pilot/instructor and Aquanaut.
His career has taken him around the globe from the arctic to the tropics with projects ranging from collecting subsea biological data beneath arctic ice for the EPA and NOAA, to searching out ancient shipwrecks in the Aegean Sea.
He has worked with NASA in association with Project NEEMO (NASA Extreme Environment Mission Operations) to help train astronauts underwater in preparation for future space missions.
Council said he will explain to Carson the deep diving exercises that are helping NASA associate astronauts with "extreme" geologic formations that they may encounter on Mars by exploring undersea Catalina and perhaps dive somewhere near the Catalina coast. On Thursday, Aug. 19, Carson is scheduled to speak about her magical journey that she hopes will eventually take her to Mars, on the rooftop of the Ackerman Family Amphitheater of the Catalina Island Museum ("A Trip to Mars under the Stars") at 8 p.m.
Catalina Island Museum Events Coordinator Kellie Costello said the event is free but those wanting to attend should RSVP her at events@catalinamuseum.org.