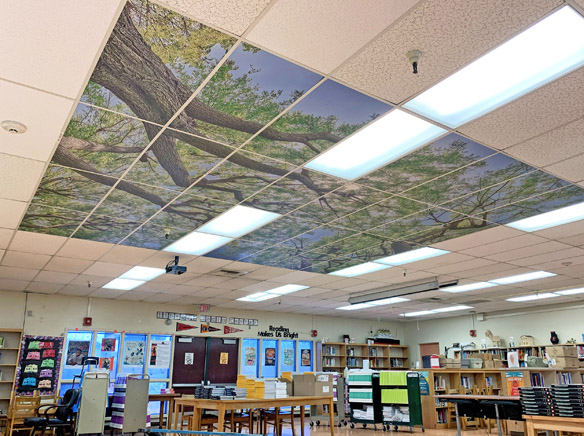 Avalon-based Nature in Classrooms raised funds to minimize COVID impact on East Los Angeles
Students, staff and teachers at Henry T. Gage Middle School were welcomed back for the 2021-22 school year as they discovered the surprise appearance of tree canopy ceilings in three classrooms and the school library. The placement and intended use of these lifelike and realistic appearing canopy ceilings is to promote achievement and decrease anxiety in academic settings especially with the added stress of the current Covid-19 pandemic.
This was made possible by the Avalon-based Nature in The Classroom. Most of the donors either live in Avalon or have a connection to the Island.
Backed by 40 years of peer-reviewed scientific research on the positive effects of nature in academia, the aim of the canopy ceilings will be to raise test scores and grade point averages, increase attention spans, and lower stress levels.
This research also finds photographic images of nature share comparable impacts with improved learning outcomes by placing students in a calming environment.
"Our goal is to bring a little relief to the anxiety kids are feeling getting back to the classroom and bring out the sense of happiness in coming to school," said Founder and Executive Director Ernesto Rodriguez.
The classroom and library ceilings feature four different local tree species photographed in Los Angeles County. To achieve the naturalistic effects of being outdoors, thirty-two high resolution images were printed on 2-foot x 4-foot ceiling tiles and pieced together to complete the ceiling canopy. All tiles meet existing national building fire codes and are produced with non-toxic inks on recycled plastic.
The tree canopy ceilings will also act as a built-in learning opportunity and focal point about nature and the environment.
Additionally, they will serve to further complement and broaden the benefits of Gage Middle School's existing gardening and Social Emotional Learning programs.
Nature In The Classroom, based on Catalina Island, raised $15,465 from 212 donors via Global Giving, a not-for- profit specializing in increasing impact among donors and non-profits.
Funds from this project were directed to mitigating the effects of Covid-19 in the East LA Latino community which has been disproportionally affected by the pandemic.
Placement of tree ceilings in the multiple classrooms and the library will guarantee student exposure and further the benefits to the entire school.
"We are excited to hear the feedback and see how the trees help students and teachers kick off the new school year," said Rodriguez.