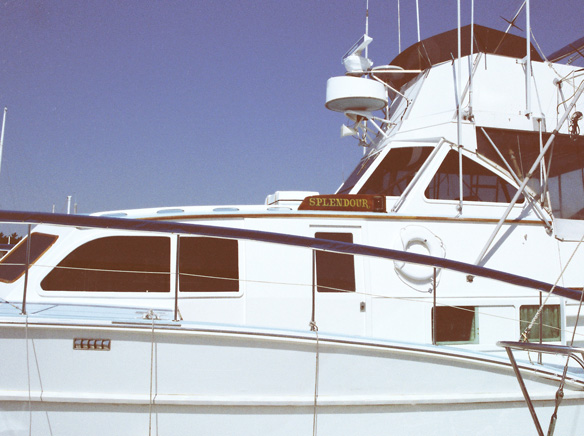 First in a two-part series.
Ear witnesses say forty years ago this month, beloved Hollywood star Natalie Wood spent her last moments on earth crying out for help in the dark waters off the Isthmus near Two Harbors.
Wood was apparently spending the Thanksgiving weekend holiday with her husband, Robert Wagner, and two others aboard their yacht Splendour, moored in the waters near Two Harbors on Catalina Island.
By all accounts, in 1981, Wood's career was skyrocketing. At the time, she was filming the $15 million science fiction thriller Brainstorm, co-starring Christopher Walken and directed by Douglas Trumbull.
In addition, contemporary reports said Wood was also scheduled to make her long-awaited stage debut three months later, on Feb. 12, 1982, in the play Anastasia, at the Ahmanson Theatre.
Tragically, however, Wood never made it to the Ahmanson stage, nor did she live long enough to see her last movie (Brainstorm) released.
"Ear witnesses" staying on a boat that happened to be moored near the Splendour that November night in Two Harbors have said they strangely heard a woman's voice in the water desperately screaming for help, having no idea a woman was about to lose her life.
Wood's lifeless body was found floating in the Pacific Ocean the next day, on Nov. 29, discovered less than a mile from the Splendour. She was 43.
Investigators later learned that two other men, her Brainstorm (movie) co-star, Christopher Walken, and the yacht's captain Dennis Davern were aboard the Splendour with Wagner and Wood when the incident occurred.
Two official investigations, both by the Los Angeles County Sheriff's Department, the first in 1982, and a "reopened" investigation in 2011, have left questions unanswered that have now been explored, claims a new investigator on the case.
In an interview this past week, Samuel Perroni, a retired federal prosecutor from Arkansas, says he has completed his own intensive investigation into Wood's death. His book, entitled Brainstorm, will be released Nov. 29.
Perroni managed The Perroni Law Firm in Little Rock for 29 years before his retirement in 2008. His success earned him many accolades, including a listing in The Best Lawyers in America, Criminal Law, by Naifeh and Smith, Harvard Law School from 1986 until his retirement.
Five years ago, after reading an account reopened Natalie Wood investigation in 2011, Perroni said he had a "brainstorm."
The retired Assistant U.S. Attorney, former defense lawyer and former head of the Arkansas Crime Lab, explains what drove him to reinvestigate the case.
"In 2008, I had to retire from practice law because of this hearing disorder of mine, and a car accident. I wasn't ready to retire, I can tell you that for sure. But throughout that period of time, as Natalie Wood's case kept popping up, I had all sorts of issues in my mind about it because in my opinion, [the investigations] never passed the smell test," he said.
"So, when I retired, because of my disability, I started reading books, and in 2015 I read a book that had a chapter in it that dealt with the alleged reexamination of [Wood's case]," said Perroni. "It didn't look like to me that the investigators did anything except gain publicity through some press conferences and everything else," he said.
Right then and there, said Perroni, "I put the down the book and looked at my wife. I have a brainstorm," Perroni said he told her, adding "I am going to investigate what really happened to Natalie Wood."
Since then, said Perroni, he has devoted himself, to the extent humanly possible, to determine what happened to Natalie Wood on that awful night.
"I conducted my personal investigation just as a prosecutor would do if a prosecutor were, in fact, investigating the case," he said. "I am a bona fide expert in investigating cases," said Perroni, "including murder cases."
"Therefore, if you had three men on a boat with a beautiful starlet, and she ends up in the middle of the Pacific Ocean, drowned, you've got a circumstantial evidence case," said Perroni. "Basically, if it was a homicide, it is a who did it and why?" said Perroni. "And the why being the most important thing," he added.
"And that's what investigators have never explored," claims Perroni. "I think there's good reasons for it in the book as I tell the reader, in my professional opinion, detectives didn't investigate "that angle," said Perroni.
Perroni, who has enjoyed a well-documented and highly regarded legal career in Arkansas, said he employed all the investigative tools, including depositions, fact finding and forensic sciences that he used during his career to investigate Wood's death.
As an Assistant U.S. Attorney in the Eastern District of Arkansas for more than half a decade, Perroni said his office would conduct their own forensic investigations before prosecuting any defendants. "We did not rely only on the FBI reports," he said. "We performed our own investigations," he said.
Sadly, the tragic death of Natalie Wood, still, after four decades, reads like a Hollywood mystery. Many books have been written, documentaries have been produced, and thousands of articles have been published since Woods' death, yet very little new, or solid evidence has emerged.
Perroni said that is precisely why readers will love his book, which will take readers deep inside his own investigation that includes depositions, critical examination of forensic evidence and a hyper focused re-examination of all evidence in the case.
"There is only one Brainstorm," said Perroni.
"My book is about my investigation," he says flatly. "Using basic concepts, I lay out factual information that I discovered along the way that people have never seen, heard about or even thought about in any of the books that have been written up to this point in time," said Perroni.
"The reader will get, sort of, an inside education, if you will, on how cases are prosecuted," said Perroni, "and I take the reader through the whole process and educate them according to Natalie's case, along the way," he added.
Moreover, Perroni is quick to point out, however, that all profits from the sale of his book will be donated to charities in the name of Natalie Wood. "I will in no way profit from Natalie's death," Perroni made clear.
Perroni's book Brainstorm will officially be released Nov. 29 on the 40th Anniversary of Natalie Wood's death. The author said he will be on Catalina Island that day and will hold a book signing ceremony at Hotel Metropole in Avalon.
"I have things that I won't reveal until the book is published," said Perroni, assuring readers, however, that "there will be plenty of factual evidence included in Brainstorm for readers to draw their own conclusions as to what happened" on that dreadful evening.
Editor's Note: Next week, the Catalina Islander takes you inside Perroni's lengthy investigation into the death of Natalie Wood and will preview the book signing ceremony scheduled for Nov. 29.