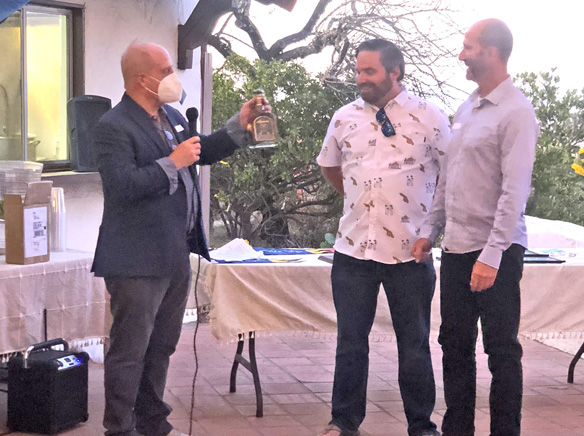 Catalina Island/Tourism Authority kicks off fiscal year
Love Catalina Island Tourism Authority, the local Chamber of commerce, held its Annual Meeting and Installation of officers and directors on Thursday, July 21.
The event was held at the Airport in the Sky Restaurant.
While addressing the crowd of more than 50 people in attendance, outgoing Chair Tim Kielpinski said: "We're incredibly proud of the work that the board, executive committee and staff have done over the past fiscal year. Working closely with local businesses, we have been able to reach new and expanded audiences, and offer exposure leading to some great successes."
The Annual Report distributed to attendees touted some key measures, many of which met or exceeded pre-COVID-19 records, including:
• Increased hotel and vacation rental occupancy by 22.71% and 14.77%, respectively, over the prior fiscal year
• Hotel occupancy exceeded most competing destinations multiple times while the same destinations beat Vacation Rental Occupancy all but a few times last year
• Visitor Counts were reportedly up 50.74% over the prior fiscal year
• Visitor Driven Revenues were up 74.1%, with Transient Occupancy Tax for hotels being up 86.7% and more than 100% for vacation rentals.
• New advertising campaigns, events and media relations drove an increase in website traffic at lovecatalina.com by 15.35% while foot traffic at the Catalina Island Visitor Center was up 118.87%
• Television, digital media, billboards and Catalina Beverage Company truck wraps were among the promotions that drove the most impressions and website visits
• Media relations and film productions delivered 323 stories and over 30 days of filming with outlets including Travel & Leisure, Arizona Family, USA Today, NBC, ABC, KTLA, Snowfall (series) and Capital One credit card ads
• Social media channels all grew in followers, with Love Catalina Island's TikTok page growing by over 2,559%
Copies of the Annual Report will be mailed to all members of Love Catalina Island as well as to local elected officials.
Retiring board members were thanked and presented certificates acknowledging their service:
• Levent Alkibay, Catalina Beverage Company completed two terms on the board
• Steve Hoefs, Catalina Entertainment Inc, completed two terms of board service
• Roberto Perico, Two Harbors (dedicated seat) vacated his position after several years
Newly installed Board Members were:
• Janet Flathers, Catalina Tours/Catalina Coffee & Cookie Co.
• Daniel Teng, Zane Grey Pueblo Hotel
• Megan Wright, Café Metropole/Pancake Cottage/Scoops and Airport in the Sky Restaurant
• Conrado Vega, Catalina Island Golf Cart Rentals/Eric's on the Pier/Lloyds of Avalon
• Andrew Allen, Two Harbors
Fourteen additional Board Members will continue to serve in the new fiscal year.
Officers retiring from the Executive Committee included:
• Nicole Hohenstein, Catalina Canyon Inn/Catalina Island Inn as Past President
• Dave Stevenson, Catalina Island Company, as Marketing Chair
Officers for the new fiscal year will be:
• Bryce Noll, Leo's Drug Store, Chair
• Tim Kielpinski, Catalina Island Conservancy, Past Chair
• Ben Villalobos, IEX Helicopters, Chief Financial Officer
• Gail Fornasiere, Catalina Museum for Art & History, Marketing Chair
• Amanda Bombard, Chair Elect
The event was closed in honor and remembrance of former Board Member Buddy Wilson and former Business Member Pete Edwards. Both honorees recently passed away but left indelible marks on the organization and the community.
About Love Catalina Island
Love Catalina serves as the official Tourism Authority for Catalina Island.
Originally founded in 1949, the nonprofit is comprised of approximately 230 member organizations, working closely with city officials, local businesses and the community at large to attract visitors and support the local economy.
Love Catalina Island is governed by an elected board of directors and is funded in part through the collection of Transient Occupancy Taxes.
For more information, please visit www.lovecatalina.com.
Travelers can also join the conversation on Facebook (www.facebook.com/lovecatalinaisland) Instagram (@LoveCatalinaIsland) and Twitter (@LoveCatalina_).