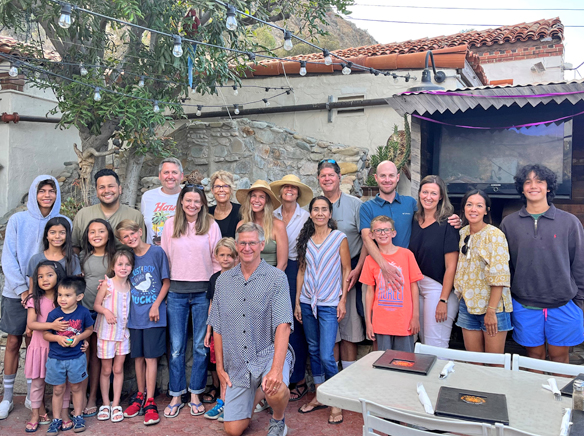 Fletcher family still consider Catalina part of the family
Dave and Vivian Fletcher came to Catalina for the first time in 1937. They had seen a billboard on their honeymoon that read "Take the Take the Big White Steamer to Catalina," so they did. It was their introduction to the island, but when opportunities arose to take up residence on the island, the young couple jumped at them.
Dave was in construction and he began to get jobs working heavy equipment at the quarry. The couple, along with their children, Myrna and Jim, then six and three years old, respectively, moved back and forth a couple of times as Dave's contracts expired and were renewed.
Unfortunately, Myrna would pass away in 1937 due to ulcerative colitis. Jim said it was suspected to possibly be caused by Crohn's Disease. The family would return more permanently in 1947, when Dave was hired as night shift foreman at the quarry. This made Jim a more involved youth on the island.
"I attended most of seventh, eighth, and ninth grades in Avalon, along with the Cacozza girls, Syl Ryan, and Lolo (Saldana), Jim said.
Jim, then too young to play for the high school baseball team, was made the team's Bat Boy, which also required him to keep score at games and handle other game day chores. The family moved away again, as the quarry contract expired, but in 1956 Dave was made superintendent of the quarry. Jim graduated college that year and soon his own children, Tracey, Tom and Stephanie, were also frequent visitors to the island to visit grandpa Dave and grandma Vivian.
By then, Dave had become a board member for the hospital, when the current building was constructed. Vivian would later volunteer at the hospital and at the church, which is now Singing Waters Christian Center. She was also named Sunday School Teacher of the Year during her service. The Fletcher's would again move away from Catalina in 1970, but the family continued its connection with frequent trips.
Last week, a large group of descendants of Dave and Vivian gathered for a family gathering on Avalon, including some of Dave and Vivian's great-great grandchildren.