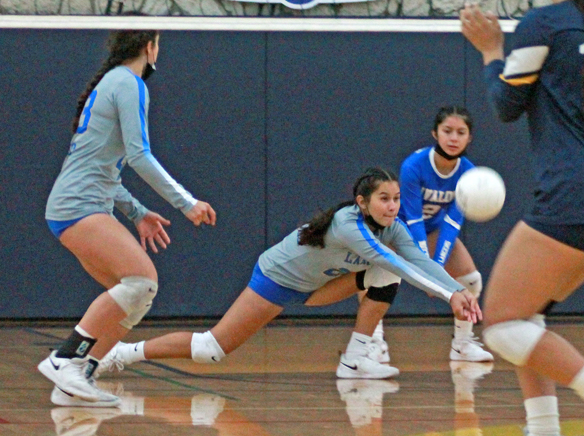 The Avalon High girls volleyball team swept two matches against Southlands Christian on Saturday to improve to 16-4 overall and 4-0 in the Academy League. The Lancers dispatched the Eagles 25-16, 25-22, 25-14 in the first set and then 25-7, 25-10, 25-21 in the second set, at a double-header match on Saturday at Southlands Christian.
After winning the first set, the Lancers found themselves in a battle during the second as Southlands rallied from an early deficit to take a 10-8 lead. The Eagles trailed 8-5 when they went on an 5-0 run to take control of the set.
But the Lancers bounced back with a 4-0 run of their own. Lizette Cervantes started the run with a cross-court kill, followed by a Lancer Ace serve to tie the set at 10-10. Kensley Flynn hit a shot inside the back line for a point and the Eagles misplayed a pass to give the Lancers a 12-10 lead.
The Eagles would soon go on a 4-0 run, aided by a Lancer hit that went long and another into the net as the Eagles took a 15-13 lead. The score went back and fourth, but the Eagles were able to extend their lead to 19-15.
A net serve by the Eagles cut the lead to 19-16 and Elizabeth Hiniker hit consecutive ace serves to pull the Lancers within a point. The Eagles took a 20-18 lead on a miss pass by Avalon, but the Lancers went on a 4-0 run, started with a long serve by the Eagles.
Cervantes followed with a cross-court kill and Hannah Hoefs added consecutve ace serves to push the Lancer lead to 22-20.
The Eagles fought back to tie the set at 22-22, but the Lancers closed it out after that. Virginia Soto tapped a second shot to open space for a 23-22 lead. After a double hit call against the Eagles, Alana Moreno ended the set with another ace serve off a back row dig attempt.
In the third set, the Lancers pulled out to an 8-3 lead and held the separation most of the set, at times extending it to as much as 14-6. With a 21-14 lead the Lancers closed out the set, with Alana Moreno stringing together several ace serves that the Eagles could not control for returns.
Cervantes finished the day with 10 kills and two aces. Daniella Moreno had seven kills and Hoefs added six. Alana Moreno, Emily Mello and Flynn had three kills each. Soto had nine aces and 30 assists. Libero Vanessa Rodriguez had 37 digs and Hiniker added four ace serves.
The Lancers are scheduled to host a double-header match against Newport Christian on Saturday, with matches at noon and 3 p.m.