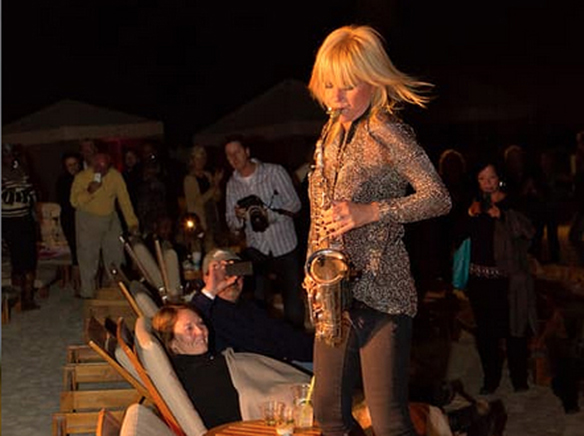 Preparations are complete for a long-awaited return of the JazzTrax Festival 2021 on Catalina Island as promoter Art Good says the show will go on and it will be one to remember.
"Because of the pandemic, planning has been a bit more difficult than normal," he said, but "we've got a fantastic lineup of great jazz artists and a plan to keep everyone safe."
This year's festival, said Good, will be "vaxed to the max," noting that all guests who attend the performances inside the Avalon Casino will be required to show proof of vaccination against COVID-19. A simple COVID test will not suffice to enter, he said.
Originally founded in 1987, the Catalina JazzTrax Festival has become a fall sojourn for thousands of contemporary jazz fans from around the country, and the world.
After missing 2020 because of the COVID-19 pandemic, the internationally recognized Catalina Island JazzTrax Festival returns to the Avalon Casino stage for the next two weekends, Oct. 14-17 and again from October 21-24.
The JazzTrax festival was founded by Good 34 years ago. "We are all very happy to be returning to that beautiful Casino ballroom overlooking the Pacific," said Good.
Over the years, he said longtime JazzTrax fans have come to expect to hear a mix of top jazz artists along with newer, so-called breakout stars.
"This year is no exception," said Good, noting that Tom Scott and the L.A. Express "returns to JazzTrax for the first time in 30 years." Also, he said, famous Los Angeles session guitarist Larry Carlton will appear to reprise his days with Steely Dan and the Crusaders on the Casino stage.
"We have an exceptional lineup of amazing artists," he said.
Good said he was excited to see Scott return to the Casino stage after three decades away. On his popular weekly jazz radio show, Good recounted how Scott "slipped away from the contemporary jazz scene" in the 80's and 90's as his exceptional musical ability brought him a variety of career opportunities.
"I'm happy to see him coming back to perform contemporary jazz," said Good.
Scott, a saxophonist, has played with many musical superstars throughout the industry, from Paul McCartney to the late Michael Jackson and written theme songs for a long list of television shows.
"I'm really excited that Tom Scott and the L.A. Express will be in Catalina for JazzTrax this year," he said.
"Also, I am very happy to announce that Mindy Abair will be the featured performer of Unplugged Under the Stars event at Descanso Beach on both Thursdays during the two-weekend festival," he added.
The "Unplugged" event is held in a relaxed atmosphere on the sand at Descanso Beach to open each weekend of the festival.
Abair was already scheduled for the "Unplugged" event Oct. 14, said Good, which is sold out. However, following a cancellation by fusion guitarist Marc Antoine due to sickness, he said Abair will step back onto the sand again for the Oct. 21 performance of "Unplugged" as well.
"Mindy is an amazing sax player and we are very fortunate to have her make two appearances during the JazzTrax Festival," said Good.
Artists also appearing on the festival's opening weekend, from Oct. 14-17, include: keyboardist Lisa Addeo, saxophonist/singer Mindi Abair, keyboardist Nicholas Cole, guitarist Steve Oliver, saxophonist Gerald Albright, keyboardist Gregg Karukas, singer Jeffrey Osborne, flutist Kim Scott, the legendary group Spyro Gyra, Roman Street, and trumpeter Rick Braun.
On Friday, Oct. 22, the popular feature, "Sax to the Max" event at Descanso Beach returns, featuring a trio of spectacular saxophonists Paul Taylor, Michael Lington and Vincent Ingala, according to Good.
Finally, the festival's closing weekend (Oct. 21 -24) will feature Fattburger guitarist Evan Marks, Toronto's Four 80 East, harpist Mariea Antoinette, keyboardist Kayla Waters & saxophonist Kim Waters (father and daughter), Randall Clark, a debut saxophonist from Salt Lake City, Larry Carlton (previously mentioned), keyboardist Carol Albert, legendary saxophonist NAJEE, guitarist Adam Hawley.
The JazzTrax closing act on Oct. 24 includes world famous guitarist Peter White, appearing with saxophonist Euge Groove on the Casino stage.
Festival goers are eager to return, said Good, noting that pre-sales of JazzTrax tickets are already running ahead of the total sales for 2019.
"We have a surge in tickets purchased this year," he said, adding that a bevy of logistics arrangements are in place for festival goers, including the Catalina Express running late boats to ferry fans back to the mainland and all necessary arrangements have been made with Avalon hotels.
Fans from around the world and across the United States are expected to be in Avalon over the next couple of weeks to attend the festival, he said.
"The entire lineup of amazing artists for this year and other details are available at JazzTrax.com," said Good.
Finally, after a pause of one year, Catalina Island is ready to get all jazzed up in October.