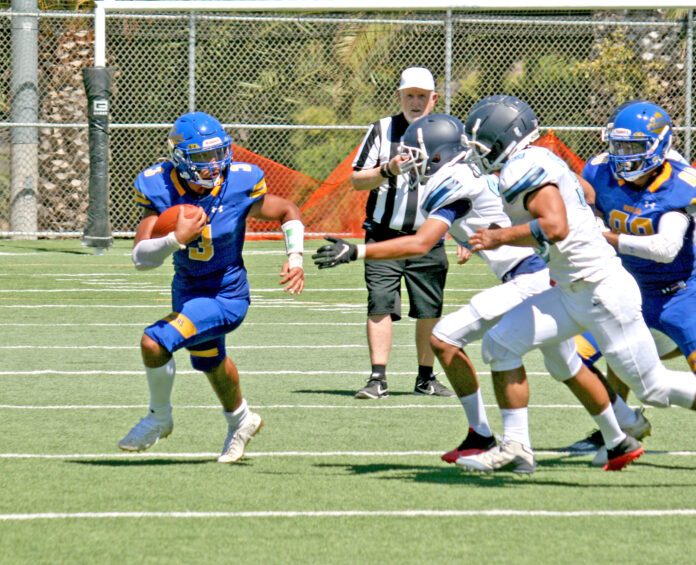 After a rocky first quarter, the Avalon High football team began to find its rhythm. But it was not enough as the Lancers lost their season opener, 28-18, to Chadwick School of Palos Verdes on Saturday at Machado Field.
Chadwick jumped out to a 14-0 lead, aided by a fumble and a self-inflicted safety by Avalon. But the Lancers began to find their footing in the second quarter.
"We had a lot of penalties in the first half, I think it was first game jitters for the team and the young guys," Head Coach Nick Morones said.
A big run by Francisco Arellano in the second quarter moved the ball into the red zone. Juan Hernandez would eventually punch it in on a short run for the Lancer's first score.
Later in the second, the Lancers converted a fourth and 12 with a pass that was deflected by a defender, but still hauled in by Brandon Moreno for a first down. That also led to a Hernandez touchdown as the Lancers would but the lead to 14-12 at halftime.
Brandon Moreno would finish the game with 79 receiving yards, 24 rushing yards and a touchdown. Hernandez compiled 157 rushing yards, 10 passing yards and 10 tackles on defense. Francisco Arellano had 45 rushing yards and 10 tackles on defense.
Allen Campos had 52 yards receiving and added four solo tackles on defense. Also standing out on defense were Gustavo Hernandez with eight tackles and two sacks and Esteban Chavolla with six solo tackles and a sack.
"We fought hard until the very end against a great team and almost won having only one full practice. I'm excited to watch this team grow and get better," Morones said.
The Lancers return to action on Friday with an away game at University Pathways Public Service Academy of Los Angeles. Pathways is 0-0 and is in its first year of football for the new school. The game is scheduled for 1 p.m. today.