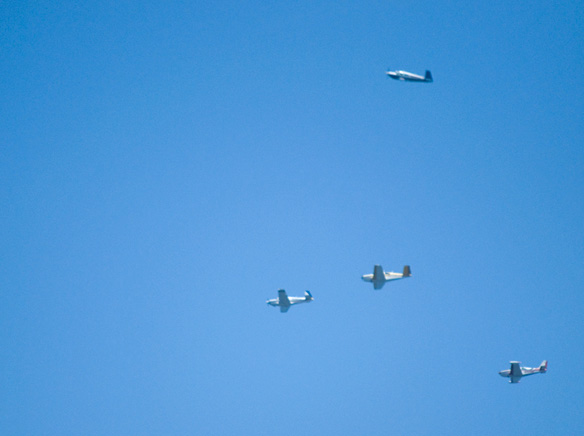 On May 10, 2022, planes flew over Catalina Island to commemorate the 110th anniversary of Glenn Martin's flight to Avalon.
Aviator Stephen Tucker, representing three aviation organizations, arranged for the plans to fly over the Island. He also arranged for a helicopter to follow Martin's history flight path.
On May 10, 1912, Glenn Martin made a successful water landing flight, in his self-built seaplane, from Balboa Pier (Newport Beach) to Catalina Island then back to Balboa. On the return to Balboa, Martin was asked to transport mail for the Avalon post office.
In related news, celebration organizers will present postal cancellations to Avalon Postmaster Margarita Jackson to Art Deco Society of Los Angeles at the Art Deco Society Ball on Saturday, May 14.
That event is for the Art Deco Society Ball ticket holders.
On Sunday, May 15, Jackson will hold a public presentation of postal cancellations to the Art Deco Society at noon at the Wrigley Stage. Planes are scheduled to fly over the Wrigley Stage prior to the ceremony.
To commemorate the 110th anniversary of Martin's flight, the United States Postal Service in conjunction with Building Bridges, created five pictorial postmarks to celebrate the historic voyage.
The celebration would feature five events over five days, beginning earlier this week at Balboa Pier on Tuesday, May 10, then onto Avalon and ending at the LAX Flight Path Museum on May 16.
Martin made history by being the first person to achieve the longest over-water aviation flight in 1912 off the coast of the Pacific.
The flight beat the previous record holder, covering 68 miles in 37 minutes.
Martin tested his biplane with the boat attached to the bottom, becoming the first "seaplane" to make a water takeoff and water landing, from the water near Balboa Pier to the water near Avalon on Catalina Island.
Martin achieved another by transporting of US mail by from Avalon back to the mainland.
On May 10, 2022, Avalon Mayor Anni Marshall receiving pictorial postmarks at the Green Pleasure Pier.
During a May 11 phone interview, Karen Lile, executive director of Building Bridges, a non-profit, said they performed a ceremony where Glenn Martin landed his plane.
According to Lile, Avalon Postmaster Margarita Jackson stamped the commemorative pictorial postmark to commemorate the event. Lile said that Avalon basically had a post office on the beach. The partnership between USPS and Building Bridges began in 1996 in No. California, with Karen Earle Lile as art director and executive producer of the series working with postmasters across the decades to create USPS Building Bridges Special Postal Cancellations.