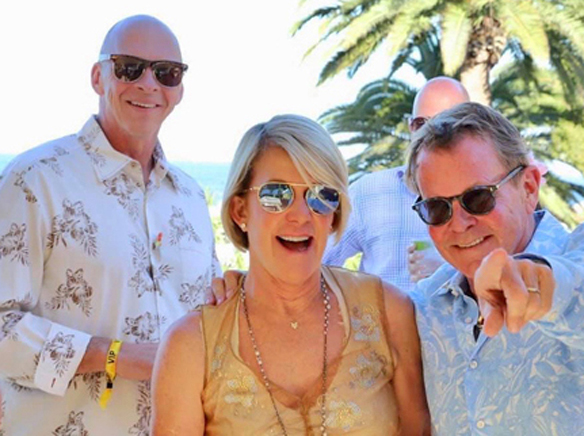 Beach party to benefit Catalina Island Medical Center Foundation
A Margaritaville-style event, complete with live bands and beach dancing, will take place Saturday, August 7 to benefit the Catalina Island Medical Center Foundation. "Catalinaville" will be held at the Descanso Beach Club with a cocktail reception and dinner at 5 p.m. followed by a beach party at 8 p.m. The Hinchliffe Family is the title sponsor.
A live auction and raffle are also on tap. All proceeds benefit the foundation and its support of the Catalina Island Medical Center (CIMC) and the future of healthcare on Catalina Island.
During the COVID-19 pandemic, the CIMC instituted a number of procedures enabling a successful vaccine rollout. Because of community outreach through social media and local press, daily Zoom meetings with administrators and doctors and continuous updates to city council members and staff, zero vaccines were wasted, few residents were infected and there were no community transmissions from infected patients. In fact, CIMC was awarded the Avalon Rotary Club Citizen of the Year Award on June 23, 2021 for excellence in leadership and response to the pandemic.
"The medical center was a leader in helping keep the community safe from the virus," says Jeff Aronson, CIMC Foundation board chair. "It's an example of the commitment the center has to our residents and visitors."
Changes to Catalina healthcare services are on the horizon. To meet State of California earthquake requirements, a new medical center must be built by 2030. A $2 tax will be added to roundtrip tickets sold to people entering Avalon beginning April 2023 to help pay for the new center. The CIMC Foundation is holding events such as Catalinaville to raise additional funds to support the new hospital.
Other Catalinaville sponsors include Buddy Wilson, Katrina Lee, Conrado Vega, Kevin and Sandy Hutton, Catalina Business Enterprises and Frank and Kathy Tarquin.
"We want to thank all our sponsors and community supporters," says Aronson.
"Catalinaville is an opportunity to be with friends in a great environment and raise money for an important cause," says Aronson.
"Formed in 1980 as the Avalon Hospital Foundation, the purpose of the Catalina Island Medical Center Foundation is to help facilitate quality health care on Santa Catalina Island," according to the Foundation's mission statement.
For ticket and sponsor information, visit cimcfoundation.org/Catalinaville, or call Olivia Oldach at 310-510-5160.