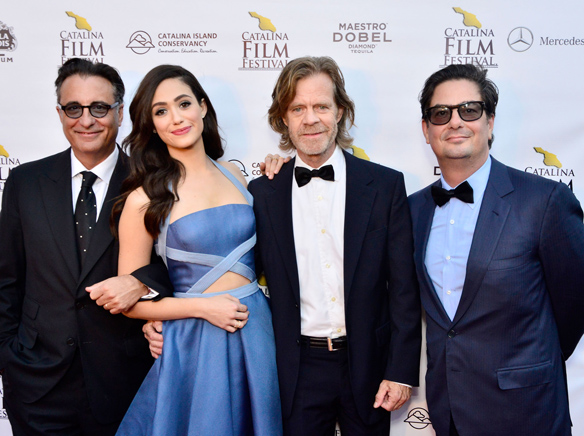 Catalina Film Festival announced their 12th annual celebration of film returns to the mainland in Long Beach at the Scottish Rite Cultural Center on Wednesday – Thursday Sept. 21-22, then sets sail to its namesake Catalina Island for a destination weekend of film screenings, parties and red carpet premieres at the historic Avalon Casino, Friday – Sunday, Sept. 23-25. Online festival selections will screen on the streaming platform, Eventive.org from Sept. 30 to Oct. 9.
Long Beach Highlights:
Master Classes: Film Finance Workshop and Screenwriters Panel featuring Leo Chu (Founder CAPE's New Writers Fellowship)  Eric Garcia (Showrunner/Producer), Micaela Wittman (Clairevoyant), Arthur DeLarroche (Remy & Arletta), moderated by Nikki Fowler 
The Craft of Acting Panel featuring Jon Huertas (This is Us), Melora Hardin (The Office), Aleksa Palladino (The Irishman), Greg Tarzan Davis (Top Gun Maverick), Lance Reddick (The Wire)
Wes's Wicked Wednesday Films:
Wes Craven Shorts Block in Competition
Catalina Film Festival has the only official Wes Craven-sanctioned Horror Awards Category, with winners selected by the Craven family
HIDE Screening, Q&A & Cocktail Reception
Opening Night Feature FIlm & After Party: Malibu Horror Story
Thursday Social Films:
Reckoning with the Primal Wound, hosting the night's after party.
Bring Them Home, special presentation with Q&A and reception
Thursday Night Feature Film: Sober
Catalina Island Highlights:
The Lions Den: 15 select filmmakers pitch their film to Hollywood & independent producers, investors for possible onsite funding
Friday Red Carpet US Premiere: On Our Way with cast in attendance: Sophie Lane Curtis, Micheál Richardson, Jordana Brewster, Ruby Modine, Keith Powers
Saturday Red Carpet Feature Film: Mental State, cast/crew in attendance
Invite-Only VIP Parties at private estates for filmmakers & VIP badge holders
Masterclasses: Film Commissioner's Panel featuring Sabrina Jurisich, Christina Glynn, Charla Teeters, Tasha Day, Jim Luttjohann; Produce & Distribute your Best Feature Film with Jen Goyne Blake, Producer, Founding Director Sundance LA; Kalani Dreimanis, Epic Pictures; Producer/Actor Andrew Chapelle
Known for its storied history and sweeping views, Catalina Film Festival hosts the annual awards ceremony and red carpet premieres at the iconic Avalon Casino Theater. Past celebrity guests and honorees include Nicolas Cage, Jon Favreau, Stan Lee, Kevin Hart, Mira Sorvino, William H. Macy, Andy Garcia, Sharon Stone, Emmy Rossum, Richard Dreyfuss, Kate Bosworth and more. CFF is a competitive festival with awards in multiple categories, including the Stanley Kramer Social Artist Award, Wes Craven Horror Award, and Conservation Award.
For tickets, complete schedule and more information, CatalinaFilm.org