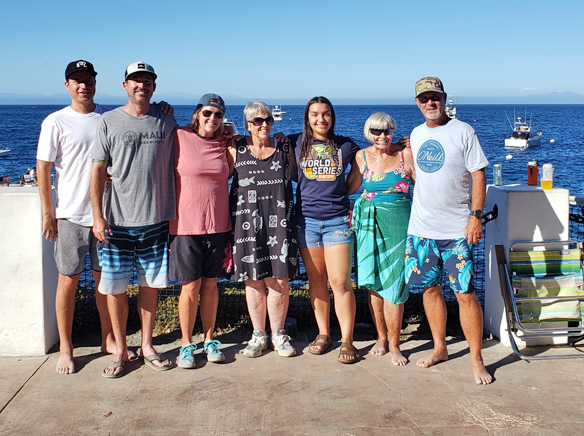 For the Islander
The Hall Family Reunion has been taking place on Catalina Island for over 25 years and there are no signs that this event is coming to an end anywhere in the near future. The family continues to grow thanks to Harold and Margaret Hall who started it all off many years ago when they decided to have a family of 13 children.
This year's Reunion was a three-day event as Mr. Stephen Hall's retirement party at Descanso Beach got things started on Thursday evening, August 4. A gathering of family, friends, former students, and staff members celebrated the night away, making the 33-year teaching veteran feel very special.
Then on Friday, August 5, the Margaret G. Hall Golf Scholarship Tournament took place thanks to the generosity of the Catalina Island Golf Course. Again, the event raised over $2,000 to meet its quota. The community and the Hall family combined forces to make this event a success.
Through the golf tournament and the raffle, supported by many local businesses, this event raised the necessary funds for a $2,000 scholarship, given each year to a deserving member of the Avalon Boys Basketball Program. This year's recipient was team manager Alana Moreno. She is attending San Diego State University in the Fall and will use the money for her college expenses.
The golf tournament itself was the most exciting in its 15 year history. Captain Gary Hall led his team of hackers to victory in a three-team playoff hole. His teammate James Hall made the shot of the day, sticking it two feet from the hole on his final shot and securing the victory for his team.
On Saturday the fun continued at Hamilton Cove where family and friends gathered for the annual Hall Family Reunion which is a beach party, filled with food, fun, and frivolity. Thanks to our wonderful community and its combined efforts this year's Reunion events were a success once again and the family is very appreciative. Avalon is a great place to live and to visit.