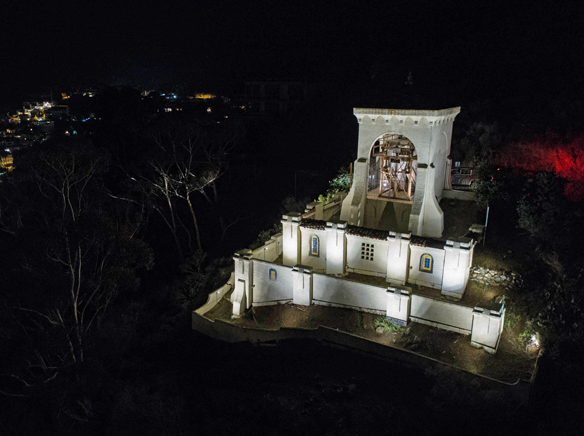 The Catalina Chimes Tower Foundation will present its 2nd annual Bats in the Belfry fundraiser the evening of October 29, 2022, at the historic Avalon Theatre, located in the Catalina Casino. 
The event will begin at 6:30pm PDT with a cocktail party featuring complimentary hors d'oeuvres, a haunted house and spirits for purchase including the signature "Witch's Brew" concoction! Highlighting the evening will be a performance by master magician, Jonathan Levit from Now You See Me, The Incredible Burt Wonderstone, and The X-Files. The evening will be capped off by a screening of the 1999 supernatural movie Sleepy Hollow in the historic Casino Theatre. Throughout the event, attendees near and far will bid to win exciting auction items – including travel packages, unique Catalina experiences and more.
"With the success of last year's inaugural event, we are thrilled to bring this bewitching experience back to The Avalon Theatre," said Alison Wrigley Rusack of the Catalina Chimes Tower Foundation. "We're looking forward to a memorable evening full of ghostly surprises and festive Halloween entertainment plus a new haunted house, with all proceeds benefiting the Catalina Chimes Tower Foundation's exciting next phase of restoration."
Tickets are available for purchase online at https://onecau.se/_peun1. Attendees can also take advantage of joining the Chimes Club, where members receive an annual vintage ball cap embroidered with the foundation logo and year of membership, a 50% discount on admission to events in year of membership, and recognition on the foundation website. For more information on becoming a member, visit www.catalinachimes.org/chimes-club.
For exclusive hotel packages, which include complimentary general admission to the event, visit https://www.visitcatalinaisland.com/packages/lodging/halloween-weekend/
There are only a limited number of these, so book yours soon, as they will be gone quickly.
Proceeds from the event will go toward restoring the Catalina Chimes Tower for future generations to enjoy. The Catalina Chimes Tower Foundation is a 501(c)(3), tax-exempt organization.