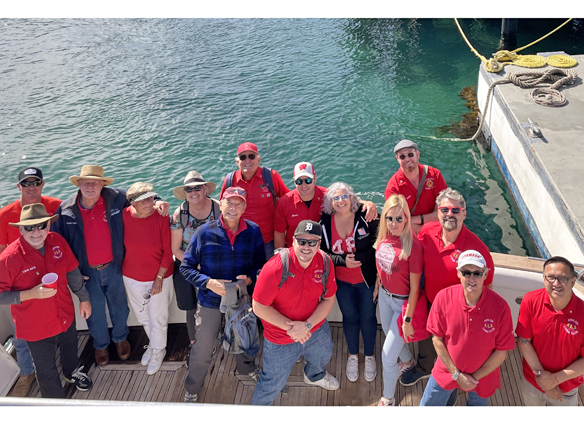 The Avalon Lions Club Members and Friends poured gallons and gallons and cans and cans of beer at the November 5 Micro Brew Fest. This annual event is hosted by the Catalina Island Company and held on the beautiful Two Harbors Beach. Sun Country Marine Group was a perfect sponsor for the sunny November day where microbreweries from all over California donated their beer for tasting.
A fantastic silent auction featuring Island Company hotel stays, Steve's Steak House dinners and much more brought in over $3,555 for the Avalon Lions Club Scholarship Foundation. The Avalon Lions Club awards Avalon School Graduating Seniors several scholarships each year valued at over $12,000.
Many thanks to Kristine Allen and the great Two Harbors Staff for the set up and preparations on the beach for this event. Catalina Beverage Company was a tremendous help supplying beers and transportation. Nate Lins provided transportation for the Lions Club Members and friends on his beautiful boat the "Epic".
November 12, 2022 saw Avalon Lions Club Members helping with aid stations, registration and shirt hand out for the Catalina Conservancy 12K and Half Marathon Race. Coordinated by Mike Bone of Spectrum Sports and Timing Company the race had just over 900 runners. Participants came to Catalina Island from 20 US States and Canada. Fifty-five percent of the racers were women and 45% men. Catalina Island is known across America as the premier destination for trail racing.
Jennifer Diaz, the Community Outreach Coordinator for the City of Avalon broadcasted live from the finish line on Avalon KISL Radio Station. Jennifer welcomed Bob Norton from Huntington Beach, California across the finish line with a first-place finish in the men's 80-year-old event and a time of two hours and four minutes. Jennifer also congratulated female first place finisher in the 80-year-old race Hannelore Nese from South Pasadena, with a time of one hour and thirty-four minutes.
The Avalon Lions Club Members are welcoming new members this winter. If you have a heart to serve the Avalon Community with your time and talents let an Avalon Lion know or call Burney Ramming at 310-422-1406.