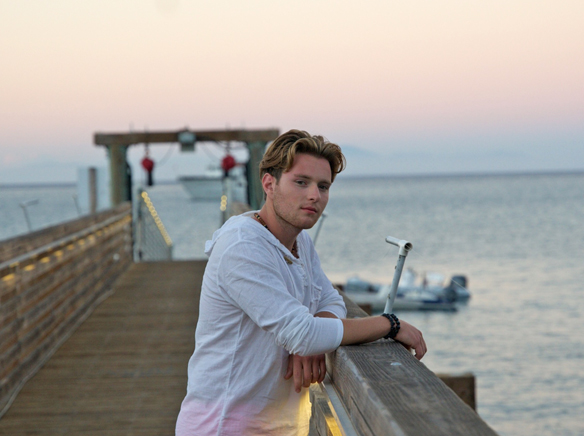 One of the performers at this year's Catalinaville event has a personal connection to the island.
Presley Aronson, 21, is a singer-songwriter, director, producer, actor, and beyond. Presley formed his own production company at age 14, which he runs to this day, providing a platform for LA's youth to learn the ins and outs of the industry prior to pursuing higher education.
As CEO of Presley Aronson Enterprise, he oversees multiple units, production managers, and crew, as well as mentors interns. His company produces films, commercials, music videos, and beyond.
At the same time, Presley is pursuing a music career. He has two music videos out, three singles. The first, "She's All Mine", released in July 2020, followed by the music video in December 2020, shot by Presley's production company, showcasing Catalina Island. His second single, "What If", came out in March 2021, followed by the music video in April 2021, also a love song, this one shot in Los Angeles.
Presley's third single, "Live Like Paradise" is a recent release, May 2021, with the music video in the works, also shot around Catalina, highlighting some of the island's most beautiful landscapes. His fourth single, "Background", is coming soon, as well as the music video that recounts personal experiences with bullying during his childhood.
With this song, Presley will embark on a nationwide tour with the Stand4kind organization that supports children in the U.S. dealing with bullying and grappling with suicidal thoughts.
A Margaritaville-style event, complete with live bands and beach dancing, will take place Saturday, August 7 to benefit the Catalina Island Medical Center Foundation. "Catalinaville" will be held at the Descanso Beach Club with a cocktail reception and dinner at 5 p.m. followed by a beach party at 8 p.m.
The dinner is sold out, but tickets are available for the Beach Party. For ticket information, visit cimcfoundation.org/Catalinaville, or call 310-510-5160.
A live auction and raffle are also on tap. All proceeds benefit the foundation and its support of the Catalina Island Medical Center (CIMC) and the future of healthcare on Catalina Island.