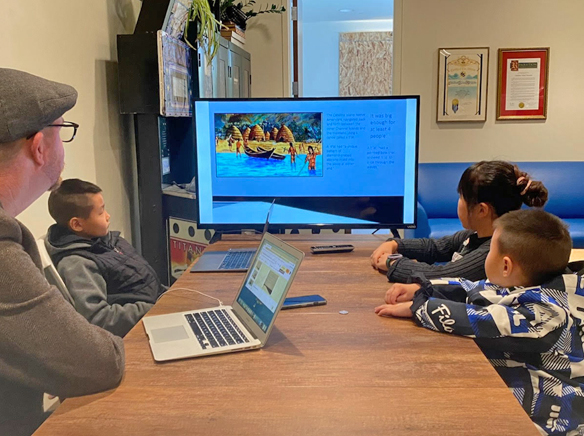 Proposal is for story of impact of missions on early islanders
Two Los Angeles area elementary school students recently presented their idea for a potential exhibit to the Catalina Museum for Art & History. The students worked on the proposal for three months with special projects tutor, Peter Paccone, meeting once a week for 90-minute work sessions. The title of their proposed exhibit was "The History of the Spanish Mission System and its Effect on the Catalina Island Native Americans."
On Dec. 18, the students, accompanied by Paccone, met with Johnny Sampson, the Deputy Director and Chief Curator of the Catalina Museum for Art & History. Sixth grader Jolie Ding and third grader Allfa Chen presented their proposal, using a power point presentation on the potential exhibit, which they suggested could be divided into three segments.
Paccone provided an overview of the proposal. Part I: would focus on the arrival of Columbus and the Spanish in America in 1492. Part II: would explore the period between Juan Cabrillo's arrival on Catalina Island in 1542 and the start of the Spanish Mission System. Finally, Part III: would delve into the impact of the mission system on the Native Americans of Catalina Island, closing out with a mention of the fact that by the 1830s Native Americans no longer lived on Catalina Island, though they had lived on the island for nearly 8,000 years up to the time of the arrival of the Spanish.
Sampson said that the museum has been in the process of looking for more historical sources to update exhibits on the islands' history and native inhabitants. And he added that he was impressed with the rigor of the students' research.
The Museum has indicated that they are working to put together an installation that will share the story of the impact of the Spanish on the native community. They found the students' research an asset and are encouraged that they chose such a challenging subject.
For Sampson he said one of the benefits for him, was being able to engage with the students to find out what they found most interesting in doing their research, to possibly construct exhibits that will better interest visitors of all ages.
When Sampson asked about what the students learned and found interesting, Jolie said, "the story of smallpox and the effect it had on native Americans. I had no idea."
Allfa found most interesting the research that suggested the Catalina Island Native Americans used whale bones to build their huts (aka ki'shes).
"I was really impressed with them," Sampson said.