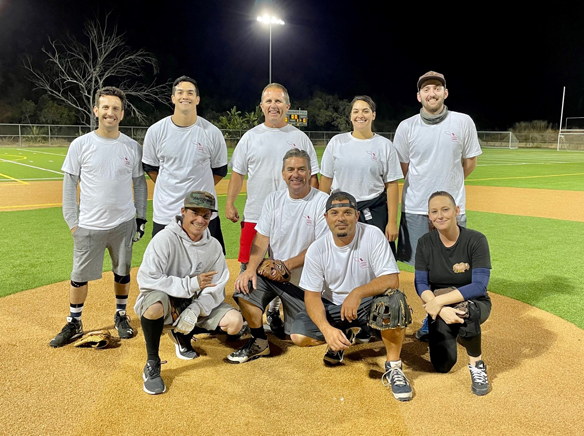 In the final game of the regular season, The Lobster Trap took on Bravo's Landscaping. This thriller came down to the final inning. The Lobster Trap was up first, and the game went back and forth inning to inning.
At the end of the first, The Lobster Trap was up 2-1. By the end of the second, Bravo's Landscaping was up 4-3. The end of three, The Lobster Trap was back in front 5-4. After five The Lobster Trap was up 8-7. Going in to the bottom of the sixth and final inning, Bravo's Landscaping was down 9-7.
Gabe Alvarado started the inning with a home run. Tyler Engel followed with a solo homerun to tie the game. A double play ended the game in a tie, 9-9. For The Lobster Trap, Justin Hernandez was three for three with a single, double and triple. Ryan Hinkley had two hits, both doubles. Eigo Rios also had two hits, one a double. Jose Cuevas, Jose Octavo, Santiago Martinez, Briana Morones and Stephanie Martinez all collected one hit.
For Bravo's Landscaping, Jim Hinkley was three for three. Robert Reyes had two hits, one an inside the park homer, the other homerun outside the fence. Tyler Engel also had two hits, a single, and a solo homerun. Allan Casillas and Gabriel Alvarado both had a solo home run. Diana Rios also contributed a hit.
Game two was for the league title between Straight Up Builders and Coyote Joes. Straight Up Builders scored four in the first, and kept the pressure on, eventually winning the game 20-9.
For Straight Up Builders, Amie Jimenez collected five hits. Nick Morones and Gilbert Hernandez both had four hits, two of Nick's were triples, one of Gilbert's a double. Beto Martin had three hits, all doubles. Marisa Morones also had three hits, one a double. Daniel Paradisi hit a double and a single. Paul Daniel Romo had a triple and a single. Josh Flynn had a home run. Bart Glass contributed with a single.
For Coyote Joe's, Chuy Sillas was four for four, two singles, a double, and an inside the park homerun. Nestor Cubillo had two hits. Sebastian Sanchez collected a double and a single. Bart Glass had a great scoop at first to deny a third hit. Frankie Rojo had a single and an inside the park homerun. Felipe Casillas and Rachel Mc Cormick contributed a double each.
The single elimination tournament begins this week.
Final Standings
Straight Up Builders 6-3
Coyote Joes 5-4
The Lobster Trap 4-4-1
Bravo's Landscaping 2-6-1
Final Top Batters
Nick Morones .829
Sebastian Sanchez .806
Josh Flynn .759
Justin Hernandez .724
Beto Martin .700
Robert Reyes .654
Chuy Sillas .654
Daniel Paradisi .621
Jimmy Felix .607
Margery Williams .594
Madeline Hiniker .476
Stephanie Martinez .374
Rachel Mc Cormick .367
Marisa Morones .357