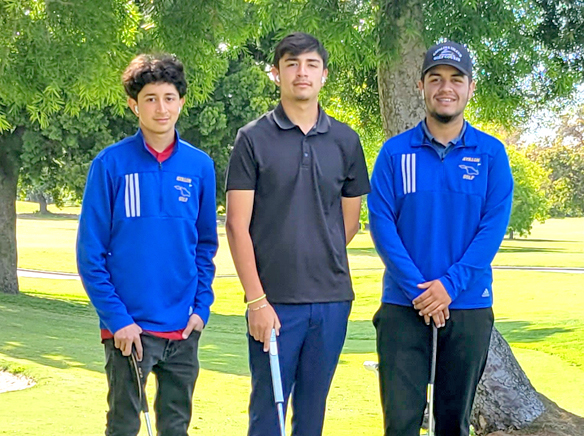 This past week the Avalon Boys Golf Team sent their six top golfers to the mainland to compete in the San Joaquin League Individuals at Lakewood Country Club. Rigo Pedroza Jr., Damien Pedroza, Jose Pedroza, Cole Konigsmark, Francisco Bravo Jr., and David Talsky all traveled to Lakewood Country Club to represent their school.
It was a two-day tournament with the top 13 out of 24 from day 1 continuing on to day 2. Pedroza played outstanding golf the first day shooting a 78 and taking the lead in the tournament. Rigo's 2 cousins, Jose and Damien also qualified for day 2 by shooting an 88 (Jose) and 91 (Damien).
At the end of the second day the top 6 from our league would advance on to the CIF-SS Prelims, to be held on Wednesday May 10, at Los Robles Greens, in Thousand Oaks. Although Jose and Damien did not make it to the top 6 they both competed well and represented their school in fine fashion.
Our captain and No. 1 player all season long, Rigo Pedroza Jr. finished in 2nd place in the two-day tournament and therefore advanced to compete in the Prelims on May 10.
Congratulations to Rigo. He is now part of Avalon High School golf history.
I know he wanted to be number 1 in our league, especially because he was so close. Each year of his high school career he has greatly improved. In fact, he already has sights on next year's league individual title. But before that he has the great opportunity of competing against some of the best junior golfers in all of Southern California, in the Prelims at Los Robles Greens. Good luck to Rigo and more golf news to come.