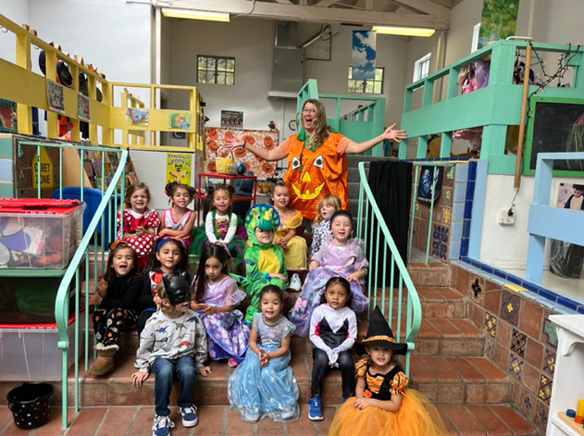 P.L.A.Y. Preschool auction fundraiser returns Nov. 12
After 2 years of COVID issues, P.L.A.Y preschool has announced the return of the annual P.L.A.Y craft auction. This year it will be held at the El Galleon restaurant, Saturday, Nov. 12, from 5 to 9 p.m. Entry tickets are $10 and include hors d'oeuvres, homemade desserts, and a door prize ticket.
The event will include a live auction and silent auction. Door prizes are pulled throughout the night to win items and experiences donated from businesses in town. Doors open at 5 p.m., and we aim to begin the auction at 6 p.m.
Additional door prize and grand prize tickets can be purchased from parents of preschoolers, and during the night of the event. This year's grand prize includes a 3-night stay in Palm Springs, golfing at Indian Wells for 2, and dinner out on the town.
Each year, P.L.A.Y Preschool holds this craft auction that serves as its sole fundraiser and provides the resources the school needs throughout the year. P.L.A.Y parents and teachers would like to thank you for your attendance, and thank all the businesses and individuals who donate time, money, and prizes to make this event a success each year.
P.L.A.Y is celebrating 53 years of being open and serving nursery school age children and their families. It all began in February 1969 when a group of Avalon parents began writing to congressmen, senators, federal and state agencies asking for help in starting a preschool. Drs. Raymond Rydell and Julianne Gensley of California State College's department of elementary education assisted the committee of parents, consisting of Doreen Stout, Trudy Saldana, Leslie Shannon, Rosemary Lee, Denise Burns, Bunny Putnam, and Carol Whelchel. They started a month-long summer program July 1969.
El Encanto was chosen as the best location available for the preschool. Avalon's recreation program provided some financial aid for the school. Registration fees, bake sales and donations from service clubs, individuals and community organizations provided the rest of the funds needed to completely remodel "The Surf Room," as the classroom was called. All labor was donated.
At the end of January 1970, Avalon's first cooperative preschool opened with its first class of 25 students. The board of directors for the year were president Vickie Morris, Vice Carol Whelchel, secretary Jane Budd, treasures Mitzi Brown and Dorothea Gonzales, and participation chairman, Janet Given.
A new location was needed in June 1973, and the parents of the preschool began searching for alternatives. The search didn't yield any results through the summer months, and it looked like P.L.A.Y wouldn't have anywhere to open in the fall. Through the generosity of John Leonhardi, the project was not allowed to die. He donated the use of the Country Club banquet room and patio for the school's use.
The next year, 1973-74, the basement of the Avalon Community Church was rented, but the school began to need a place of permanence. At the Community Church, school equipment had to be moved in and out of the space at the beginning and end of each term. The amount of classroom equipment was growing each year, and continually moving it without loss or damage became difficult.
This problem came to the attention of Mr. and Mrs. P.K Wrigley, at the end of that school year. Since the Bird park had some buildings that were not being used at that time, the Wrigley's were approached. They agreed to a lease and finally, after five years of uncertainty, the preschool program had a place to call home.
Parents and community members worked hard to convert the Bird Park into a suitable place for the preschool activities. On September 22, 1975, the school opened the classroom which it still occupies today. June Koetz was the supervising teacher. The board of directors for the first year at the Bird Park classroom were president Wendy McElroy, vice-president Sue Ur, secretary Bonnie O'Guin, treasurer Barbara Helman, participation chair Jeannie Quesenberry, and coordinator Kathy Moritz.
Now in its 53rd year, the school is looking more fabulous than ever. The Bird Park octagon, functions as a giant playground with plenty of opportunity for the students to learn through play. Numerous improvements have been made to the property and classroom. The current director/teacher, Tina Kennedy, is finalizing her 38th year this next spring. Her assistant, Kat Chase has been involved with the preschool for over 10 years. The school has 15 students, 3-5 year olds, at this writing, and room for more. This year's board of directors are president Bre Bussard, vice president Ana Hernandez, treasurer Mandy Hernandez, secretary Leeann Little, and fundraiser Taylor Morones. If you have any questions about the event or program, please call the school at 310-510-2324, Tuesday-Thursday, 8 a.m.-12:30 p.m.
If there are any past parents, or townspeople interested in making and donating a homemade craft to assist this grand event, please contact a board member or school. We would love to have the privilege to auction it, and support Avalon's future!