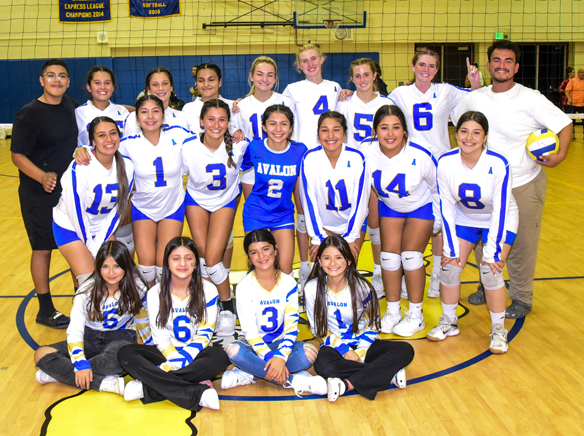 Season included a thrilling home playoff win in five sets
The Avalon High girls volleyball team saw its season come to an end with a quarterfinal loss at Nordhoff High, in Ojai, on Wednesday night. Nordhoff is the first-place team out of the Citrus Coast League, while the Lancers earned a playoff spot as the fourth-place team out of the San Joaquin League. Still the Lancers pushed the Rangers to five sets before coming up short.
The Lancers began the playoffs with a 3-sets-to-1 victory over Bellflower, the second-place team out of the Mid-Cities League, a wildcard playoff at Bellflower. The Lancers continued on the road in the first round, defeating California Academy of Math and Sciences (CAMS) in Carson. The Rebels were the first-place team out of the Coastal League, but the Lancers were victorious in five sets, 3-2.
That win earned the Lancers a home match in the second round, where they faced San Jacinto, the second-place team out of the Mountain Pass League. The Lancers pulled off a five-set thriller, taking the fifth set by a score of 16-14 to advance to the quarterfinals against Nordhoff.