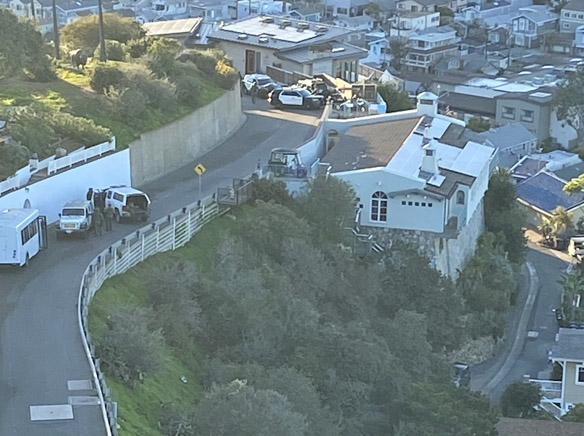 Trespassing suspect fires one shot at Avalon LASD in Jan. 24 standoff
No one was physically injured during the Jan. 24 standoff between the Los Angeles Sheriff's Department and a woman barricaded inside a home on Wrigley Road. The suspect fired at Sheriff's deputies, according to Sgt. Greyson Kline of the Avalon Sheriff's Station.
The suspect was arrested after about four hours, according to Kline. According to Kline, deputies initially responded to a trespassing call. For details, see Kline's account on page 2.
The city website advised the public that Wrigley Road was closed to the public. The Avalon Station Twitter account advised the public to avoid the area.
Social media descriptions of events and on-island rumors gave conflicting accounts of what was happening.
The LASD dispatched the Special Enforcement Bureau and Crisis Negotiating Team to the Island. Photos posted on SEB's Twitter account showed photos of LASD personnel arriving by boat and by helicopter.
Avalon School issued a notice to parents that said the decision was made to dismiss elementary students directly from the classroom or to a parent or another adult, based on their direction. "We would like to gratefully acknowledge the professionalism and dedication our staff demonstrated today and we are grateful to our parents for their support," the message said.
Jim Luttjohann, president and CEO of Love Catalina Island Tourism Authority, said Love Catalina had an employee working at the visitor's center at the time. She was offered the opportunity to leave, but she elected to stay.
In the late afternoon, Islander Office Manager Kristy Throndson sent a text reporting that the LASD was still trying to talk the suspect, a woman, out of the location.
"I can still hear the megaphone," Throndson wrote.
Within 5 minutes before 5:27 p.m., Throndson heard a "flash-bang" detonate. At 6:40 p.m., she reported another, louder flash-bang.
On Jan. 25, Mayor Anni Marshall provided her perspective.
"The event of Tuesday, the 24th was an alarming incident which reverberated quickly through our tiny town," Marshall wrote in a text.
"Speaking with residents who live close to the event, they were quite shaken as local Sheriff's and SWAT personnel dealt with the situation, patiently, professionally and safely while performing maneuvers for which they have been trained," Marshall wrote.
"The timing of this event was particularly unnerving in light of the many mass shootings occurring almost daily," Marshall wrote.
"Again, I applaud all personnel for the dedication to keeping Avalon safe," Marshall wrote.
Later, Marshall sent an additional statement.
"Staying away from the commotion, I was not apprised of the other agencies involved. I am sure city fire, L.A. County fire and of course the city of Avalon were in constant communication and ready to respond in any manner necessary," Marshall said.