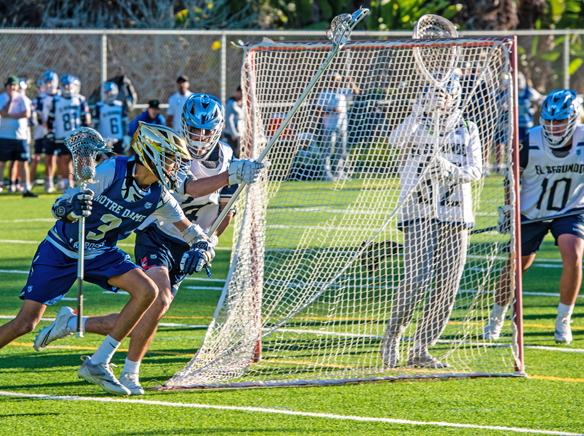 HS teams battle for first Catalina Bison Invitational title
A new event launched on Catalina on Jan. 21-22 with the inaugural Catalina Bison Invitational Lacrosse Tournament at Joe Machado Field.
The event featured five area high school teams and could become an annual event to kick off the regular spring season of CIF-Southern Section play. The five teams were Los Alamitos High, Huntington Beach High, Notre Dame High (Sherman Oaks) El Segundo High and Redondo Union High in Redondo Beach.
The Redondo Union Sea Hawks would eventually defeat top-seeded Los Alamitos in an overtime final (giving Val Schafer and her RU classmates something else to celebrate during their reunions in Avalon).
The tournament was the brainchild of some families and the coach at Notre Dame, Devin Maxwell. Maxwell was first approached by Frank Epinger about putting together a tournament on the island. Having grown up in California, Maxwell was, of course knew about Catalina, but had never been to the island.
"I knew it was out there, I had just never been there," Maxwell said.
Maxwell said when Epinger approached him about the idea, he remembers wondering how that would work. He also asked Epinger, if there was even a field on the island. Epinger informed him that, yes, in fact the island had very nice turf field. When they came over to check it out, Maxwell said he was impressed with Joe Machado Field and the island.
"I said 'yeah, I think we can,'" Maxwell said.
Maxwell, along with Epinger, Shahean Talebreza and Sunee and Bruce Osterman became the tournament organizing committee. The met with city officials, including David Hart, as well as members of the Catalina Conservancy and others. He made note that Jon Burcombe of Community Church helped out by shuttling teams to and from the field. They had a wood-carved Bison Trophy made that will be adorned with plaques with tournament winners, in the manner of the Stanley Cup in hockey.
Redondo Union will be the first team with their name on the plaque and will receive a plaque when they open the 2023 season on Feb. 21, conveniently at Notre Dame of Sherman Oaks.
"Also, special shout-out to Dave Zeller, who was the founder of Catalina Lacrosse and provided the goals for the event," Maxwell said.
Zeller coached lacrosse on the island about 10 years ago, when the Avalon team won the Sunset League title. Hart said that the event went great and was very well organized by the committee. He also said it was a nice influx of business to the island in the off-season.
"The city is looking to host more outside sporting groups in the future," Hart said. "It is good for our kids to see other kids achieving at a high level and opened them up to other sports."
Catalina Bison Invitational
Tournament Co-MVP – Kyle Estefania – Redondo Beach
Tournament Co-MVP – Riley Corcoran – Redondo Beach
All-Tournament Team
G – Jack McCaulley – El Segundo
D – Chasen Epinger – Notre Dame
D – Mason Smith – El Segundo
D – Jackson Wheat – Redondo Union
M – Cory Bergmann – Los Alamitos
M – Ryder Buell – Los Alamitos
M – Michael Maffucci – El Segundo
M – Jacob Marquet – Redondo Union
A- Connor Engle – Los Alamitos
A – Ashton Talebreza – Notre Dame
A – Dustin Penchansky – Notre Dame