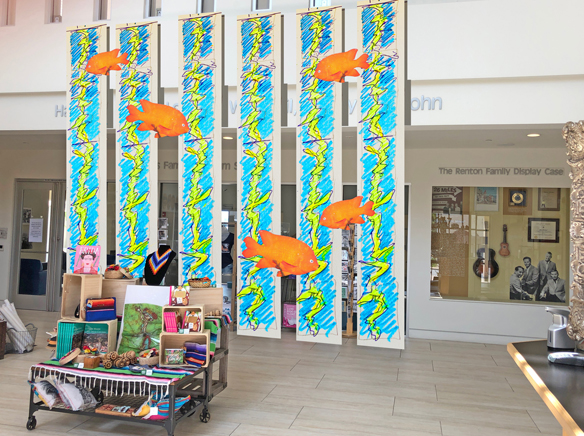 This month the Catalina Island Museum is joining the world's largest community of drawing enthusiasts during the International Big Draw Festival. The museum is seeking artists of all ages to assist in a community art project. The virtual event is open through Sunday, Oct. 25.
This year's theme, "A Climate of Change," focuses on the relationship between people and our living environments and ecosystems. Playing off this theme, the museum is "kelping" climate change and aims to create a kelp forest in its lobby.
The island's sea life is unique and relies heavily on the strength of our kelp forests. Fish like the Garibaldi (the California state fish), calico bass and numerous others call the kelp forests home. Plus they offer such beautiful underwater experiences for divers and snorkelers alike. Whether you are on the island, in the desert or in the mountains, you can participate and contribute to the museum's kelp forest.
Templates of kelp pieces and Garibaldi can be downloaded for free at CatalinaMuseum.org/bigdraw. All ages are encouraged to take part and everyone's artwork will be included. If you can, please make your artwork out of recyclable materials.
Bring in or send a drawing, painting or collage of kelp and/or fish to help build a kelp forest in the museum's lobby. Submissions will be accepted through Sunday, Oct, 25, and may be sent to Kellie Costello at events@catalinamuseum.org, mailed to Catalina Island Museum, PO Box 366, Avalon, CA 90704, or dropped off at the museum between 10 a.m. and 5 p.m. Wednesday through Sunday. The museum asks that you include your name and age on the back of your artwork. Once all submissions are collected, the kelp forest will be assembled.
The museum gift shop is currently open for in-store shopping Wednesday through Sunday from 10 a.m. to 5 p.m. at a reduced capacity with enhanced health and safety precautions to ensure the safety of visitors and staff.
For more information, visit catalinamuseum.org. To stay connected and enjoy the museum's virtual programming during this time, follow the museum's social media platforms @CatalinaMuseum on Facebook, Instagram, and Twitter.
The Catalina Island Museum offers the best in art and history exhibitions, music and dance performances, lectures by guest speakers from all over the world, and the finest in silent, documentary and international films.
The museum's Ada Blanche Wrigley Schreiner Building is located in the heart of Avalon at 217 Metropole Ave.
For more information, the museum may be reached by phone at 310-510-2414 or at its website, CatalinaMuseum.org.