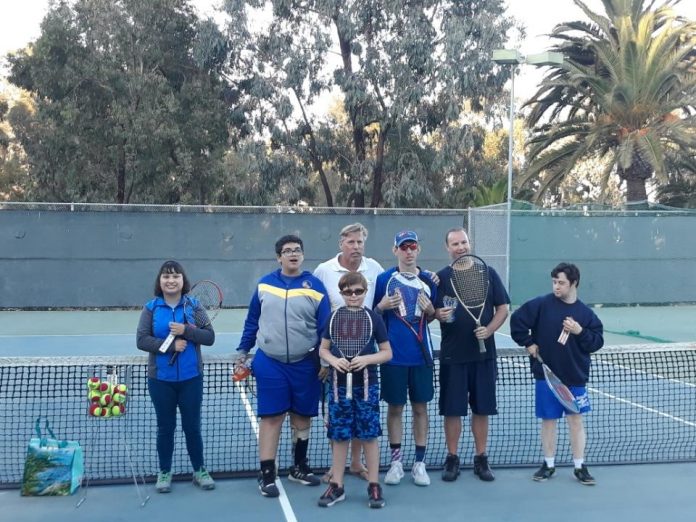 Athletes spent 10 weeks developing their tennis skills
Special Olympics, supported by the City of Avalon, completed their second season this past weekend with five local athletes, and one traveling athlete, competing regularly. The program started back in mid-September with the new management company for Catalina Country Club kind enough to donate the use of the tennis courts for the season.
Athletes spent the last 10 weeks developing their forehands, backhands, volleys and serves all while having fun learning the game of tennis. This season concluded on Nov. 16 with friendly competition in a singles match, a doubles match, and a tennis skills completion.
Ryan Montgomery and Mark Hanson competed in the singles match, with Ryan beating Mark in two sets. Doubles paired Ryan and Mark against Wyatt Karstens and coach Dan in a very close match that came down to the last point! Keeping cool under pressure, Ryan and Mark cinched the game point to claim victory over Wyatt and Dan.
The skills competition saw Ryan, Lucero Lopez, and James Martinez taking first places in their divisions. Mark and Wyatt took a second place and Sammy Jaeger finished in third.
The team celebrated the season with an after-party at the Sand Trap. Special THANK YOU to the Sand Trap for donating 50 tacos for our hungry athletes and to the Karstens family for bringing a wonderful carrot cake to finish off the evening.
Athletes will be back for another Special Olympics program in the Spring. It is currently up in the air on which sport they will be playing (more information to come soon). Thank you to the City of Avalon for the support of the program and again to the Country Club for the use of the tennis courts.