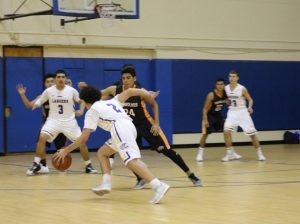 The Avalon boys varsity basketball team has had a season of ups and downs but on Wednesday Jan. 23, the Lancers finished on a real high. Avalon faced TVT in a crucial league match which could determine our playoff fate this year.
The Lancers fell behind in the first half by 17 points and things were not looking very promising. However the Lancers came roaring back behind the outstanding play of Cristo Hernandez, Sol Torres and Angel Peguero.
Hernandez and Torres took control of the defensive boards, which Peguero took control at the offensive end. At half time the Lancers were trailing by 7 points but ready to take over the game, which they did in the third quarter, going up by 5 points. Unfortunately Avalon let their defensive guard down in the fourth and the lions came roaring back to to take a 10 point lead.
However Avalon was not finished yet and with the support of a raucous crowd they came charging back one more time. The Lancers had a chance to win in regulation on a last second basket. However the ball did not go in and off to overtime we went. With the crowd now totally ito the game both teams fought back and forth. TVT took a 1 point lead with 20 seconds remaining. However the lancers had the last word with a beautiful assist from Pablo Chavolla to Sol Torres that led to a game winning layup with 5 seconds remaining on the clock. Avalon held strong on defense on the last play of the game and emerged victoriously with a win for the ages. Cristo Hernandez finished with 26 points and 13 rebounds. While Sol Torres grabbed 11 rebounds and made the winning basket. Pablo Chavolla was a hero as well driving off 6 assists, the last one being the most important of the season.
The Lancers are 5 and 5 in league and will need to win 3 out of their last 4 games to make the playoffs. They are young but they are right for the challenge and would love to have a little support from the community. We play at home on Saturday, Feb. 3, against AGBU at noon. We also play at home on Wednesday, Feb. 7, against Orange County Christians. The game begins at 5pm and we will honor our lone senior Javier Peguero before the game. So come on up and support your local Avalon hoopsters as they make a dive for the playoffs. 2018 CIF