Two seniors are honored for their contribution to program
The Avalon Boys basketball team ended their season with two victories and served notice that there could be future successes on the horizon. With eight returning players, next year's squad should be ready for the tough competition that awaits them. Although they did not make the C.I.F. Playoffs this year they did finish the season with a good feeling. In a nice pre-game ceremony we honored our two Seniors, Adan Ventura and Wallace Keppel, in their last game as Avalon Lancers. They were joined by family and friends at center court in a pre-game ceremony honoring them for their four-year commitment to Avalon Boys Basketball.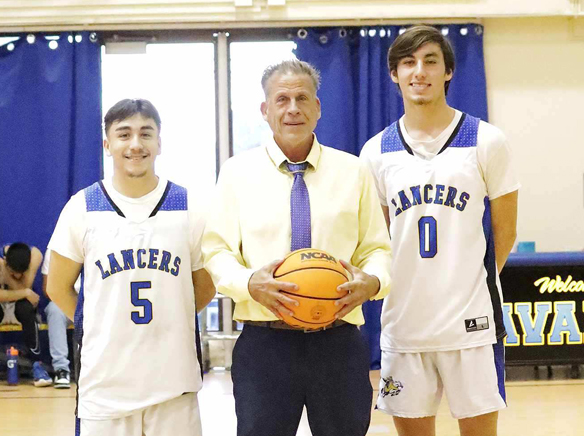 Adan Ventura has been a hustler and a great defender throughout his career. He has been seen numerous times diving on the floor for loose balls, capturing the favor of the fans and his teammates. Wallace Keppel's departure is another loss for our program as well. He was our leading scorer, rebounder, and shot blocker this past season. He had his own fan club known as Wally's World and he will be dearly missed. Both players have given it their all and our program has benefited greatly because of their participation and dedication.
Now onto the games. On Friday, Feb. 3 Avalon faced First Baptist, a new school from Long Beach. The Lancers fell behind by 17 points in the first half and things didn't look too promising. However no one gave up and before you knew it, Avalon had fought their way back into the game, due in large part to the outstanding play of Jacob Mello, Matthew Bastida, Darren Hall, Wallace Keppel and Brandon Moreno. Mello had 17 points, Hall had 10, Keppel had 9 and Bastida had 8. Moreno hit 2 clutch free throws at the end to seal the exciting comeback victory. It was a great team win and certainly delighted the home crowd.
The following day Avalon faced Lucerne Valley and the Lancers took charge from the beginning, outscoring the Spartans 31 to 11 in the first half and ending with a 69 to 26 victory.
Wallace Keppel was the leader in this game, scoring 16 points, grabbing 10 rebounds and blocking 5 shots. He was everywhere on the court. Jacob Mello was there again, scoring 14 points, while Matthew Bastida contributed 11 points to the cause. Brandon Moreno scored 9 points and dished out 7 assists from the point guard position.
It was a great way to finish a frustrating season and hopefully a sign of future successes to come. The potential is there but a lot of work needs to be done in the off season in order to make a playoff run next year. Thanks to our players for your commitment this past season and to our school and community for your continued support. Stay tuned for future Avalon Boys Basketball news and players, please continue to work on your game.