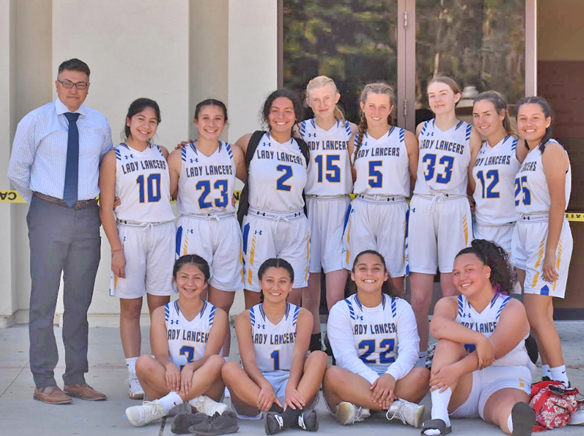 Team wins first two league games of the season. Next game: Wednesday, May 5
Despite the season starting so late, the Avalon Lady Lancers basketball team started fast out of the block.
In the last week they played two league games against Newport Christian and Calvary Chapel Downey winning both games.
Against Newport Christian, Avalon had a slow start, not scoring for the first 3 minutes.
Afterwards they turned up the heat defensively that led to run out layups and wide-open threes.
Avalon took a 20-13 lead at half time, they never looked back and eventually won 40-32. Leading scorers were junior Lizette Cervantes and freshman Elizabeth Hiniker both with 8 points.
When Avalon took on Calvary Chapel later in the week, it resulted in the same outcome.
Avalon was aggressive from the beginning and never let up, leading to a 45-38 victory.
Leading scorers for the Lady Lancers were Cervantes and Senior Giselle Alvarez both with 12 points.
Avalon, as a team, has hit seven three-pointers per game with four or more players making them.
"It's a good start to the season and I am excited what we will look like when we are a little more in sync," Coach David Hart said.
Avalon will play again this coming Wednesday against Capistrano Valley Christian.