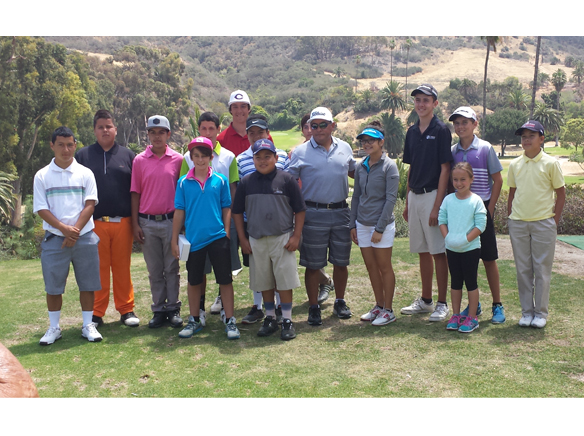 Former golf dad giving back by reviving event
As a part-time Catalina Island resident, Bill Sewell has a lot of fond memories of his time on the island. Last summer he was reminiscing with family about some of his favorite memories and realized that many were of weekends when his son was playing in the Catalina Junior Golf Tournament.
The tournament had been around since 1967, but had taken a hiatus after the 2017 season and COVID had seemed to put it on indefinite hold. Sewell wondered about bringing it back. He reached to Marty Saldana, who Sewell said had been doing a great job organizing the tournament for decades, to get his blessing on trying to bring the event back.
Sewell said Saldana was all for him taking over the job. Sewell began reaching out to the community and found a lot of excitement about the idea of getting the tournament up and running again. While the event traditionally drew some ranked junior players (some of whom went on to PGA fame), Sewell said the event was also for local players and families who wanted to make the weekend like a vacation and just enjoy the island. For them it was a destination, Sewell said.
"It was kind of like a highlight of the year," Sewell said.
Sewell has created a new website for this year's event, scheduled for April 22-23. He said hotels and restaurants are helping finding ways to raise money for local players who might need help with registration fees. He's bringing back the BBQ on Saturday and looking into some of the other events (such as a mini golf event) that he said Marty used to incorporate to make it a full weekend event.
"It was just the atmosphere that Marty created," Sewell said.
Organizers are in the early stages of getting ready. Sewell said that he recently began pushing out the information to junior golf organizations on the mainland to let people know the event is returning. He said the first year back is likely to be the toughest, but expects that those who play this year, will be more likely to return and spread the word. He said one of the things he enjoyed as the parent of a player, was walking the tournament with other parents and getting to know them during their yearly reunions. And the players, he said, usually remember playing this event for the rest of their lives.
"Playing on Catalina is a very unique place to play," Sewell said.
Registration for the event is $135 per player and includes 36 holes of tournament play, SWAG and the BBQ. It is open to players ages 9-18 (as of the tournament date) and will have three different age divisions.
For more information, or to register visit catalinajrgolf.com, or email to catalinajrgolf@gmail.com. Sewell said that, in addition to support from local businesses, community groups, such as the men's and women's golf clubs, have already thrown their volunteer hats into the ring for the event.
"We have a ton of people who want this to happen," Sewell said.