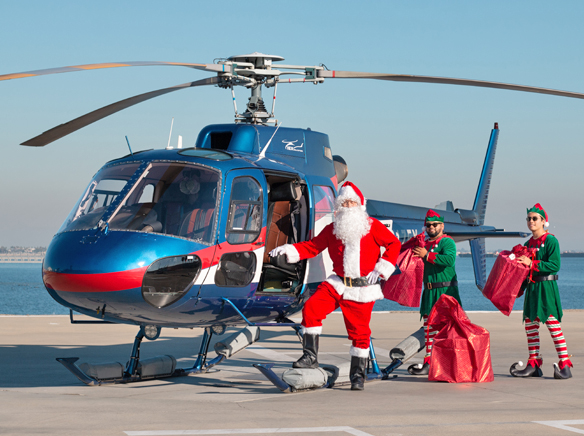 Donations to 2nd annual toy drive accepted 'til Dec. 15.
On Thursday, Dec. 1, IEX Helicopters announced its second Annual Toy Drive in partnership with the City of Avalon and the Avalon Sheriff Station. The Catalina Islander is also a co-sponsor of the drive. The campaign continues the new tradition of delivering toys and joy for Avalon's children in need during the holiday season.
IEX Helicopters will be collecting gift donations at its Queen Mary Terminal in Long Beach until Thursday, Dec. 15.
"I am delighted to share that this wonderful new tradition will continue in 2022, and we already started collecting gifts at our Queen Mary and Avalon Terminals for this year's Toy Drive," wrote Alex Dobi, IEX Business Development Manager, in a recent email.
On Friday, Dec. 16, Santa's elves will load the donated gifts into a helicopter, and Santa will fly to Avalon where they will be met by deputies from the Avalon Sheriff Station. The Sheriff's Department will then escort Santa and his elves to City Hall where the gifts will be distributed to local children.
Santa has chosen to fly his AS350 helicopter in order to give Rudolph and the other reindeer a well-deserved break, so they are fresh and ready for Christmas Eve.
IEX Helicopters is excited to once again partner with Santa for this wonderful community initiative.
"After our 2021 Toy Drive, there was no debate about turning this initiative into an annual tradition. It was heartwarming to see how much joy it brought to the younger residents of Avalon. We are excited to continue this program and make the holiday season a little more memorable for islander families who depend on tourism – which is minimal during the winter season," said Ben Villalobos, vice president of Business Development at IEX Helicopters. "We are grateful for our partnership with the City of Avalon, Avalon Sheriff's Station, and of course Santa himself for spreading holiday cheer this season."
Santa is scheduled to depart from IEX Helicopters' Queen Mary Terminal at 11 a.m., Friday, Dec. 16. Learn more at www.iexhelicopters.com.