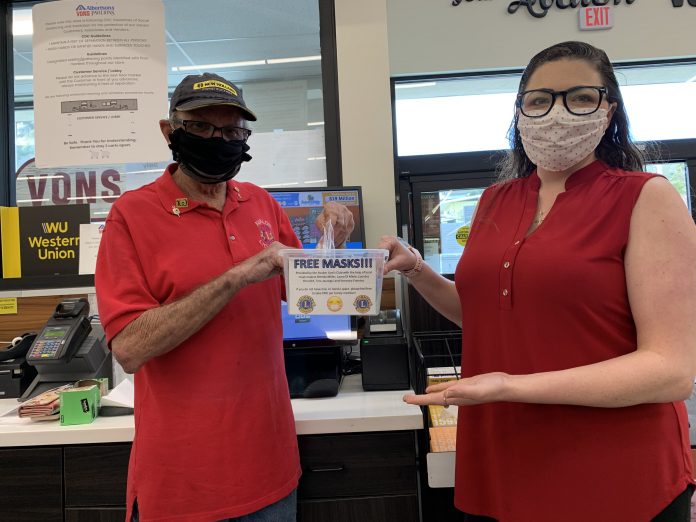 By Burney Ramming
For the Islander
As the Avalon Lions Club President, I would like to provide the Community with an update on our Avalon Lions Club Corona Virus Pandemic Services. The Avalon Lions Club Board has been meeting and will continue to meet each Wednesday by video conference to reevaluate what we can do for our community as we work our way through these difficult times. I have omitted names from the Avalon contact numbers because more than one person may help residents at each listed phone number. Here are some of the things the Avalon Lions Club is doing now and plan on doing in the future.
The Avalon Lions Club has is having several Avalon residents making masks that we are providing free to Catalina Island Community Members. The masks are available at Vons, Sheriff Station and Leos. This is good for our Community and good for the people who are getting some money for their work. The masks are going fast, and we will continue to make them until the demand stops, call 310-634-3563.
The Avalon Lions Club has established a charge account at Leos Drug Store. This account can be used by Catalina Island Residents who need a prescription and cannot afford to pay for it. To use this account a person would contact Social Services at the Catalina Island Medical Center. The CIMC Social Services Personal will screen each person applying and provide a voucher for that person to present at Leos. Call 310-510-0096.
The Avalon Lions Club is helping in person and financially supporting the Wednesday food pantry distribution at the Teen Center. City Recreation Department is the contact point for this much needed service. Call 310-510-0220. The idea is for only one dwelling member or family member to come through the line so there will be enough food for everyone. Last week several people living in one place or dwelling came through the line. If you need more food for your household, ask for it when the line is finished.
The Avalon Lions Club has purchased a large quantity of $50 Vons Gift Cards. The gift cards are available through the Catalina Island Medical Clinic Social Services Department to those who qualify. I have put a sticker on each card to remind the Vons employees that the cards are only for food items. Call, 310-510-0096.
The Avalon Lions Club will continue to provide scholarships to each graduating senior from Avalon High School this year. These scholarships may be used at any collage or trade school the student choses. Details on this program are still being worked out. Call 310-510-0790.
The Avalon Lions Club is providing commuter books and Express tickets to those Island residents who need to go to the mainland for medical reasons and cannot afford the book. Contact Social Services at the CMIC for details. Call 310-510-0096.
The Avalon Lions Club is providing funds for home internet access to those Avalon School Students who could not afford it. Call 310-510-0790.
The Avalon Lions Club is providing funds to keep the Catalina Island Pony Club and the Catalina Island Saddle Club horses in feed and to help pay the rent on the Middle Ranch Facility. Call 310-402-1535.
The Avalon lions Club is continuing to provide emergency medical alert services for elderly Island residents. Installation of equipment and phone line are provided. Call 310-422-1406.
The Avalon Lions Club Members will shop for and deliver food, deliver mail or deliver prescriptions to elderly Islanders who cannot go to Vons, the post office or Leos. Call 310-422-1406.
On behalf of the 45 members of the Avalon Lions Club I wish to thank the Catalina Island Community for their financial support over the years. Individual Donations, December Christmas Raffle, January Benefit Race and September Brew Fest are examples of how the Avalon Lions Club raises money to give back to the Catalina Island Community. Donations for the Avalon Lions Club Corona Virus programs can be made to Avalon Lions Club, PO BOX 305, Avalon, CA 90704. If anyone knows of a special situation where the Lions Club could help let me know, Burney Ramming at 310-422-1406 or bramming@aol.com. Take care of yourself and each other.