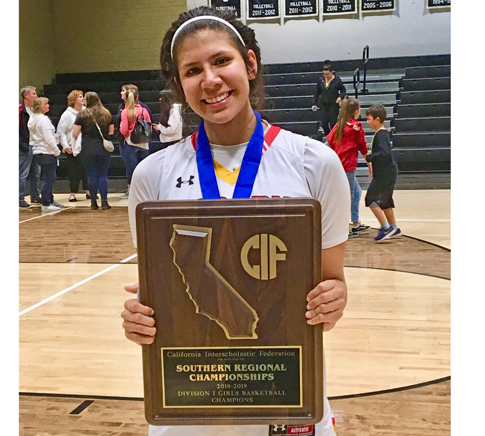 Island born girl Savannah Felix recently signed a letter of intent to continue her educational and basketball career at Concordia University in Irvine. Felix was awarded a full-ride scholarship, which will cover tuition, books, room and board.
Her journey began at Avalon School, but Felix realized that if she wanted to garner more attention and potentially earn a scholarship, she would need to branch out beyond the island. At the end of her junior year, she and her father Jim sought advice from Avalon coach David Hart, who agreed she would need to play against higher level competition to prove her capabilities.
Felix began by arranging a tryout with an elite club program on the mainland. For two months, she went over town every weekend to play and scrimmage with top-level girls from all over Southern California. Despite coming from a Division 6 program, she more than held her own and was picked for the club's Elite team.
That team gave her the chance to travel to tournaments in Chicago, Oregon and Washington DC, to name just a few. Again, she not only held her own, but was able to dominate at times.
"She just kind of came out of nowhere," her father Jim said.
The club experience opened up more opportunities and got her well known with top players and coaches around the country. For her senior year, she transferred to Rosary Academy, an all-girls school in Fullerton. Competing in the Open Division of the CIF-SS playoffs, Rosary was eliminated early, but got a berth in the Division 1 State Tournament.
They would go on to win the Southern California Regional Championship, led by Felix with 18 points and 14 rebounds. She was also key in stopping the dominating post player for La Jolla Country Day. The win put the Royals into the State Championship against Northern California representative, Bishop O'Dowd. In the state title game, Felix again was a big contributor with 16 points, as the Royals captured the state title with a 75-58 win.
"As her coach from the Island, I am so proud of her because she never let others decide how she will fulfill her dream, she just believed, worked and now achieved it," Hart said in a post he wrote about the game.
Savannah has an uncle who she was able to stay with on the mainland, but the travel, school, playing and all the work it took to make it happen was not easy. Her father said they were able to get a lot of help from others, which made the goal attainable. "Moving away from my family, friends and hometown, was the hardest decision I've ever had to make," Savannah said. "However, knowing I had the opportunity to pursue my dreams was what made it all worth it in the end. Thank you, Avalon, for always having my back, I'm beyond happy I was able to make you guys proud."
In the end, she was able to sign with Concordia. Its proximity to Catalina was also a blessing for her father.
"I'm going to be able to go to games, which makes me happy," Jim said.