Museum celebrates 100th anniversary of Chicago Cubs spring training on the Island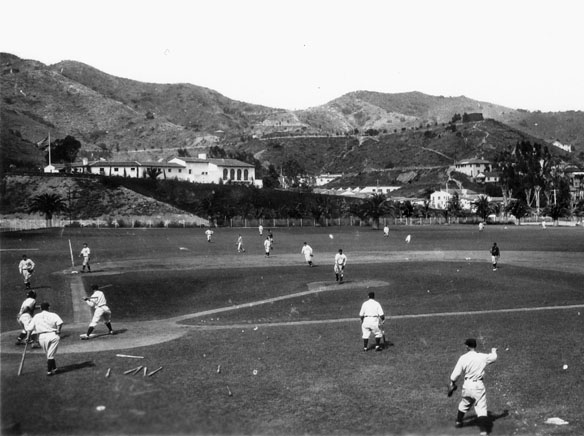 On February 28, 1921 the Chicago Cubs baseball team arrived in Avalon for spring training. One hundred years later to the day, the Catalina Island Museum will celebrate that moment in time and the thirty years that followed during a virtual event on Sunday, February 28, 2021 at 11 a.m.
The museum's monthly virtual events are a great way to stay connected to its community. These events also offer a deeper understanding of Catalina Island history, its impact on American history and often showcase items from its permanent collection.
William Wrigley Jr.'s beloved baseball team was the first to travel West for spring training. The team would spend roughly four to six weeks on the island getting back in baseball shape. Wrigley made sure they also enjoyed all the island had to offer and the sports writers of the time shared those experiences with the country. A great cross-promotion for his team and the island!
In honor of this historic anniversary, the museum will welcome Brian Bernardoni, Chicago Cubs and Wrigley Field Historian as its special guest. Through historic images and great stories, he will share the history of the Cubs, their decision to use the island for spring training, the island's Wrigley Field and more.
The event will take place entirely on Zoom. Visit CatalinaMuseum.org/calendar to register and to receive the event link. This event is offered to museum members for $10 and non-members for $15.
Due to the state and county mandates the museum's indoor exhibition galleries are temporarily closed. Its outdoor exhibitions and sales galleries are currently open Wednesday – Sunday from 10 a.m.–5 p.m. at a reduced capacity with enhanced health and safety precautions to ensure the safety of visitors and staff.
For more information, visit catalinamuseum.org or call 310-510-2414. To stay connected and enjoy the museum's virtual programming during this time, follow the museum's social media platforms @CatalinaMuseum on Facebook, Instagram, and Twitter.