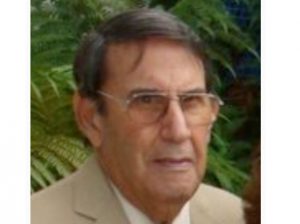 Carlos Howard Montano passed away peacefully at the age of 88 after a 10 year struggle with Alzheimer's Disease, on December 29th 2017. Carlos is survived by his sister Joan Grant, wife of 63 years Angela, and his seven children, Cecilia, Carlos, Mark, Jaime, Patty, Lourdes and Louie, his 14 grandchildren and 8 great grandchildren.
Carlos was born on Aug. 5, 1929 in Hollywood, California. He graduated from Huntington Park high school in 1949. Soon after, he joined the United States Army and served in the Korean War for 4 years. After the war, he met and married the love of his life, Angela Parra Silva and they moved to Catalina Island. Cecilia, Jaime and Patty were born in Los Angeles and Carlos and Mark were delivered on the Island by Dr. Staff. The family then moved to Mexico where Carlos become a rancher. He succeeded in producing the most and best milk in the county while also growing fruit from the region. Lourdes and Louie where born there but soon after, he felt the need to move his family back to California. Carlos moved back to the island in 1975, full time, working as a manager for Carl Carson plumbing.
Carlos had been coming to the island since the age of 14, working as a busboy at John's Café. He lived by a strong ethic. He and Angela dedicated their time to raising and enjoying their family with every moment. He did a great job, as seen by all of those he left behind. Long live his beauty that comes down through all of us. We will miss you but will never forget you.
The service was held January 26, 2018, at 9:30 a.m., at St. Thomas the Apostle Catholic Church, in Riverside, California.