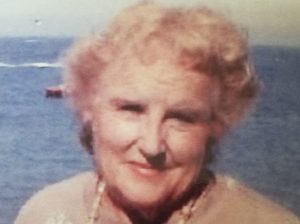 Avalon lost a beloved resident on Sunday, Jan. 14, when Jean Lynn Crow passed away at her residence surrounded by family. Jean was born in Santa Cruz, California, on Dec. 22, 1918, to Edwin and Marian Murray. The family moved to Seal Beach when Jean was very young and then moved again to Glendale where Jean played high school basketball and graduated from Glendale High School. After high school Jean went to a business school and acquired secretarial skills which proved very beneficial during World War II.
When Jean was 20 years old in 1938 she and her older sister, Marian (whose future husband,Eric, started Eric's on the Pier) came to Catalina for the first time for a weekend of tennis at the St Catherine Hotel on Descanso Beach. Jean fell in love with the island and decided to stay. She found work as a part of the wait staff at the El Encanto Italian Restaurant ( now the Island Spa).
When Maritime officials asked all residents of Catalina with the exceptions of those who owned property or businesses to vacate the island in 1941 due to concerns of a possible Japanese invasion Jean moved to Laguna.
To help with the war effort she easily secured work at the offices of Consolidated Aircraft in San Diego because of her business school training.
After the war Jean quickly made her return to Avalon as a steamer courier on both the SS Avalon (a lake boat from Lake Michigan brought to the island by Mr. Wrigley) and the SS Catalina. The song "26 Miles Across the Sea" by the Four Preps certainly rang true for Jean as she found romance on the steamships when she met the love of her life, C. L. Crow. Jean and Louis we're married at the Mission Inn in Riverside, California, on October 14, 1947, and honeymooned in Mexico. The bride and groom returned to Avalon and lived the remainder of their lives on Catalina. Louis passed away on March 20, 1995.
Jean was very involved with the school when her children were young. She never missed a school activity, spaghetti dinner, Cub Scouts, or PTA.
Through the years Jean could be found at all of the Halloween parades and the Fourth of July parades. She and Louis were picked to be Grand Marshals for the Fourth of July parade one year. She was active in the Avalon Art Association, Avalon Beautiful, Avalon Museum, Eastern Star, Women's Club, and the Rotarians.
She remained actively involved with her cherished community by attending as many community programs as she could from film festivals and silent movies, art festivals, Christmas choir and symphony programs, women's brunches, and Senior Center activities.
Most days Jean loved to be on Crescent Street wishing everyone a "happy day" and passing her smile to each of you who stopped to visit with her.
She also enjoyed talking "happy cabbage" at the taxi stand or grocery store. She adored the attention and the love all of you shared with her. A strong and abiding faith was the pinnacle in Jean's life. She was First Reader at the Christian Science Church ( now Overlook Hall) for the better part of her adult life. She was also a Sunday School teacher to many of Avalon's young people. Later in life Jean regularly attended Avalon's Community Church.
Jean is survived by her three sons: Robert (Barbara) and Murray (Christina) of Avalon and Steven (Adele) of Long Beach. She is also survived by her younger sister, Gloria (Don) Stanwood, Washington, and four grandchildren: Matt (Chris) Rethmeier of San Francisco, Thomas Crow of Burbank, Cameron Crow of Los Angeles, and Karen Crow of Huntington Beach. Jean leaves behind three great-grandchildren. Jean is also survived by many nephews and nieces including Pam Wilcox Miller of Avalon. She also leaves behind and is survived by all of you who loved her.
The family wishes to extend heartfelt gratitude to her caregivers during her life especially Edelina Bernardo and all who so warmly assisted her after her passing.
Baywatch EMTs, Fire Department personnel, Sheriffs, Detectives, Harbor Department and Search and Rescue truly were extraordinarily kind and caring and comforting. They are truly Avalon's finest. The family also thanks all of you who have stopped to express your condolences and share wonderful stories about how Jean touched your lives. Catalina truly will miss her sparkle.
No community service or celebration are planned. As her final "tally ho" Jean's ashes will be scattered by her family past Avalon Bay to be with her beloved Louis. Jean can be remembered by donations in her name to Avalon Beautiful, Avalon Art Association, or Fifth Church of Christ Scientist 5871 East Naples Plaza, Long Beach, California, 90803.