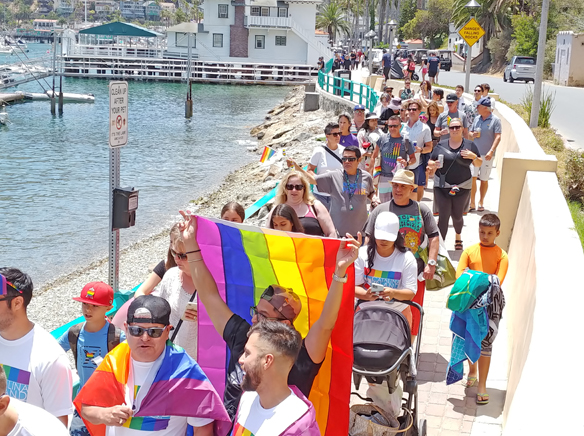 Local Pride celebration has grown from modest beginnings
The June 18 Catalina Pride celebration was larger than previous pride events on the Island.
This year's event was a day-long celebration that included live music and a noon parade in support of the LGBTQ+ community. The historic Casino building was lit up after dark in rainbow colors. The event also featured a beer garden and multiple after parties after sunset,
In 2020, the event was smaller. It was hampered, in part, by the pandemic shutdowns of that year.
"On behalf of all the people who work so hard to bring Catalina's first large scale Pride Event to fruition, I am thrilled to say it was a great success," wrote Jim Luttjohann in a June 21 email.
"In particular, seeing the hundreds of participants in the Pride March, including many locals, warmed my heart beyond description," wrote Jim Luttjohann.
"Soon we will meet as a team to debrief and discuss the ways to improve upon the successes achieved this year, for an even better Pride experience next year," wrote Jim Luttjohann
"The Pride Event was absolutely fantastic," said Mayor Anni Marshall in a June 21 interview.
She described the turn out as a good mix of local and mainland participants, including young people.
She said Channel 7 covered the event.
"This was wonderful," Marshall said.
"There was even a drag show at the Chi Chi Club," Marshall said, one she was sorry to say she missed.
Marshall was looking forward to the 2023 event. During the Tuesday, June 21, City Council meeting, Councilmember Michael Ponce said next year's event would be bigger and better.
"We went from a little walk last year to a whole day of events," said Councilmember Cinde MacGugan-Cassidy during the meeting.
Cassidy said she believed Avalon was 100% sold out.
On April 19, 2022, the Avalon City Council adopted a resolution in support of LGBTQ rights.
As the Islander reported in June of 2020, Constance Garcia, said some participants decided to stay home in the midst of the coronavirus pandemic and others were confused with the timing of the announced cancellation of the 2022 Fourth of July parade. (That parade is still on this year.) Some folks at the time thought the 2020 Pride parade was also canceled.