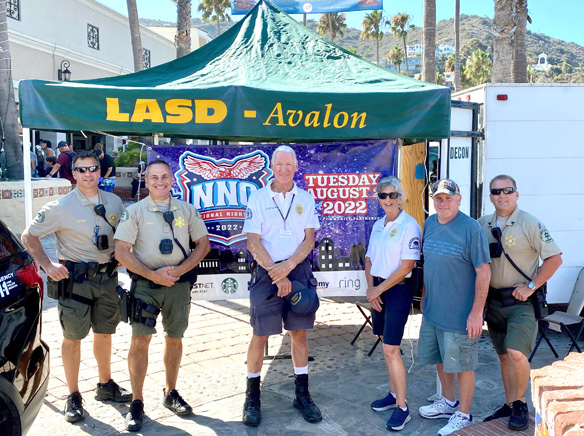 On Tuesday, Aug. 2, Avalon Station celebrated National Night Out.
National Night Out is an annual, nationwide community-building campaign that promotes police-community partnerships and neighborhood camaraderie to make our neighborhoods safer, more caring places to live.
National Night Out enhances the relationship between neighbors and law enforcement while bringing back a true sense of community. Avalon Sheriff's Station set up their national Night Display on Crescent Avenue near the fountain.
The display included an array of the Avalon Sheriff's Station fleet.
The vehicles on display included the Search and Rescue Truck & Trailer, The Sheriff's Patrol Jeep as well as the newly assigned Ford Explorer patrol vehicle and T3 electric trike.
Capt. Joseph A. Badali (the station commander) along with Avalon Station personnel and volunteers worked the event and interacted with the community. The event included handouts covering bicycle safety, crime prevention, maritime safety and recruitment of station volunteers.
During the event Avalon Station staff spoke to residents regarding concerns in the community. They staff also spoke to numerous families regarding the experience of being an Avalon Deputy. The event was coordinated by retired Avalon Station Deputy Doug Decesare. Doug did an outstanding job and although retired he remains active and engaged in his community.