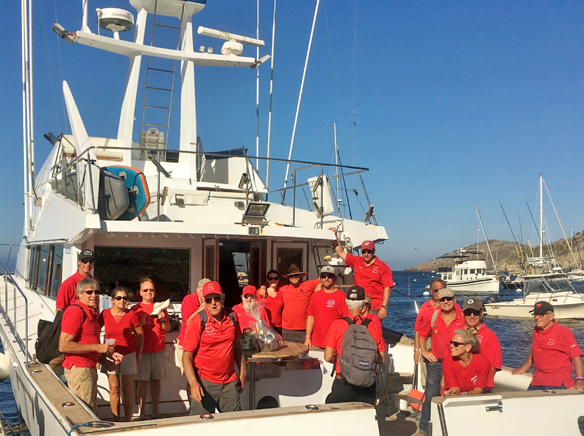 The 16th annual 2018 Microbrew Fest held each year on the second Saturday at Two Harbors was a huge success again this year. This event is a fund raiser for the Avalon Lions Club Scholarship Fund. Each graduate from Avalon High School is awarded a merit-based Lions Club Scholarship to the school of their choice. The Avalon Lions Club has awarded over one hundred thousand dollars to Avalon students as a result of the Brew Fest Event.
Longtime Avalon Lions Club Member, Tom Jordahl brought his Daughter Brenda and his Grandson Sean Thomas to help at the Brewfest. Three generations of Islanders spending their day helping their Avalon Community.
The Avalon Lions Club in partnership with the Catalina Island Company would like to thank all those who attended and all the outstanding Microbrewery's for their participation. Avalon Lions Club Members and their guests were transported to and from Two Harbors on Avalon Lions Nate Lins's beautiful boat the "EPIC". Thank you Captain Nate for this outstanding donation. Thanks also to members of the Avalon Community who donated items for the Brewfest Silent auction.
The Catalina Island Company Sales and Catering Manager at Two Harbors Leslie Boutillier did an outstanding job again this year. The food was wonderful and the music provided by "The Cary Park Band" was outstanding. Hope to see everyone next year on the second Saturday in September.
Burney Ramming is the president of the Avalon Lions Club.