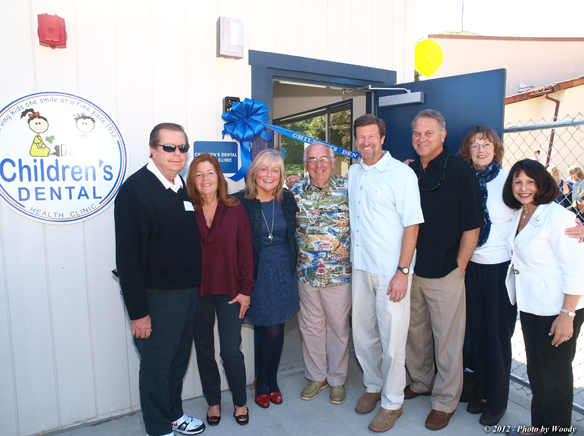 The Children's Dental Health Clinic has served Catalina Island over the past 30 years as a non-profit, multi-specialty dental health clinic that welcomes and serves all children and young adults, from birth through age 21, including children with special needs and/or medical considerations. The Clinic serves children of low-income families or who have issues in access to care, including those with Denti-Cal. Services to those without Denti-Cal, or whom have a PPO insurance, is provided using a sliding scale payment program, based on income.
The Children's Dental Health Clinic was founded in 1932 in Long Beach. It was in 1988 when a group of passionate leaders with the CDHC recognized a need for dental care for Catalina's children, and our satellite clinic on the Island was established. Since then, the CDHC has been especially attentive to our Avalon families, as they know more children are waiting for dental teams to cross the San Pedro Channel to provide much needed dental treatment. Leadership at the CDHC continues to recognize the need for dental services in Avalon, and have made the Catalina Island Children's Dental Health Clinic a priority, even though the Clinic must raise the funds through donations and grants to continue vital services on the Island. The original founders of the Catalina Clinic are still very much involved. Dr. John Blake is our Executive Director, Dr. Lynn Fasnacht served as a Board President, and former Avalon School Principal, Bruce Woods, has been Secretary of the Board of Directors. The CDHC is grateful for Catalina Island leaders, groups, and community members who continue to support and/or volunteer their time with the CDHC, such as former four-term Avalon Mayor, Ralph Morrow, Ken Putnam, Mayor Anni Marshall, Mary Villa, RN, Karla Parsons, Cathy Moran, Hannah Gough, the Tuna Club, and the Santa Catalina Island Company. A partnership between the CDHC, the Santa Catalina Island Company, and the Long Beach Unified School District has also made this school-based clinic possible. Thanks to the amazing support of the non-profit dental clinic, the CDHC is able to send Dental Treatment Teams to the School-Based Dental Clinic two to three times each month, providing dental treatment and oral health education. For those in need of more extensive treatment, the Clinic is able to provide Specialty Care Treatment services, including treatment under Intravenous Sedation, at their Main Clinic in Long Beach. Because the Main Clinic is hospital-based, on the campus of Miller Children's Hospital, where CDHC leases space, the Clinic is uniquely able to provide specialty dental treatment under General Anesthesia in the Hospital Operating Rooms. The Children's Dental Health Clinic is now celebrating 30 years on Santa Catalina Island and looking forward to many more!
Super Hero Smile Days at Avalon School
On Wednesday, March 21st through Friday, March 23rd, 2018 the Children's Dental Health Clinic staff and volunteers are teaming up with West Coast University Dental Hygiene students to host "Super Hero Smile Days" at the Avalon School. Celebrating oral health over three days, Dental Hygiene services will be provided at the School-Based Clinic, along with the annual oral health screenings and education program for all kindergarteners and classroom activities for upper grade students to support healthy eating and good oral health. Avalon students will also participate in a poster contest with the theme "What Shields My Super Hero Smile." Super Hero Smile Days will culminate with a school assembly on Friday, March 23rd, 2018.