Artist Profile: Jennifer Titchenal began her artistic journey here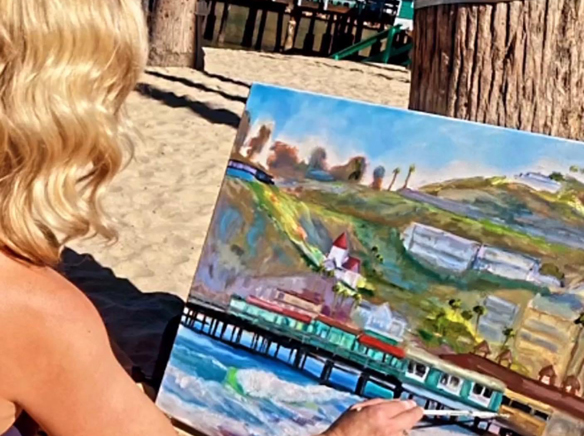 It's almost inconceivable how Catalina Island artist Jennifer Titchenal's journey as an artist has progressed in the past eight years. She moved to the island in 2014 and took a job at the Catalina Island Museum for Art and History. She was interested in learning about the islands history and took a keen interest in the tiles that were made on the island.
Some of those tiles were produced by Robin Cassidy at Catalina Tile, and those were the tiles she fell in love with. A chance meeting with Cassidy led to Titchenal accepting an offer to work for Cassidy as head potter's assistant.
"Over the course of the first year I worked on production of the Catalina tiles," Titchenal said. "Robin showed me everything there was to know."
Soon, Titchenal and her sister, artist Kimberly Wren, began designing art deco tiles that featured things like Garibaldi fish, starfish and flying fish, which sold at the Flying Fish Festival. Some of her tile work is still on display around the island and available for purchase at Catalina Crafters.
From there, Titchenal met artist Will Richards and began painting with him. She continued at Catalina Tile, but began venturing out into other projects. During this time she also took a job with Cat Beverage for some extra money and exercise. It seemed simple enough, restocking beer at the two Von's grocery stores. But she soon found out how fast beer moves in Catalina.
"Beer has a way of flying off shelves in Avalon, the first two weeks, I honestly cried every night," Titchenal said.
But she persisted and reached a point where she could carry two 30-packs with just the grip of a few fingers. She continued until she decided to move off the island for a time and live in Laguna Niguel. There she met artist Esther Williams, who is a member of the Catalina Art Association and frequent participant in Catalina Art Festivals.
Titchenal would paint with Williams and Williams became a mentor to her. She said Williams had a vibrant use of color and a feminine touch in her brush work. Her degree in architecture also gave her a unique gift for painting buildings. It was an aspect of painting that "spoke to my soul," Titchenal said.
Titchenal would return to Catalina and go to work for Jim Amoroso at the Glenmore Plaza Hotel. Amorosa was supporter of the arts and hosted Williams for the Art Festival that year. Titchenal assisted Williams in her booth and continued to get valuable lessons in art. But her pursuit of art would lead her away again. A trip to Italy set her hopes on attending the Academy of Art Florence. She joined the liberal arts college at West Virginia Wesleyan to study art. The school had told her they could help her get into Florence, she said, but they were unable to complete that promise.
She returned to California, studying at college programs and producing work. She was the showing artist in oil impressionism at the Danville Alamo Art Association. She opened a pottery studio in the high sierras and continued to visit Laguna Beach to see other artists she considered mentors, such as John Eagle, a Laguna Beach Sawdust Festival artist since 1967.
The pandemic forced the closure of her pottery studio and a blizzard that dropped 98 inches of snow, led Titchenal to head back down to sea level. She continued to paint, going back and forth from Catalina and Laguna Beach. She visited the island of Elba off the coast of Pisa, where she again got some valuable lessons from artist Paolo Damiani. She said Elba is about the same size as Catalina, but instead of one city, it is almost completely inhabited with lots of small cities, each with its own unique feel. There is only a small portion of open land conservancy and a few of the cities date back to the days before Christ.
These days, Titchenal spends much of her time painting on the beaches of Catalina, surrounded by visitors who are often exchanging history lessons on the island can be hilariously wrong, she said.
"I just love their enthusiasm as it goes into each one of my works," Titchenal said.
Fina at Catalina Crafters on Sumner currently sells some of her work, and Amoroso displays a painting of hers next to the Natalie Wood Statue in the Lobby of the Glenmore Plaza Hotel. Over town, her work is also displayed at Laguna Treasure, Accent Interiors on Balboa Island, Super Sauna Therapy Costa Mesa, Sedona Horse Medicine Sedona, Arizona, Sonora Trading Post Sonora Ca., Earthly Essentials Twain Harte Ca. and on her website, jennifertitchenal.com.
Follow her on social media, Instagram: @jennifertitchenal and Facebook Jennifer Titchenal