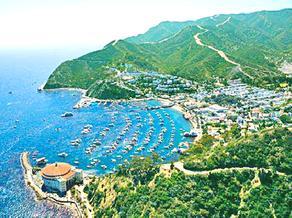 Visitors to Catalina have a lot of choices. For those visitors who don't already have plans for their visit, you'll find a brief rundown of the options.
Escape rooms: Catalina Island offers two escape rooms, the Catalina Room Escape and the Escape Room Catalina. Yes, the names are similar. The challenges are slightly different. Catalina Escape Room allows you to dress and talk like a pirate as you solve puzzles and use clues to escape from the Pirate Challenge. Escape Room Catalina allows a small group an hour to solve a series of puzzles. Themes change from season to season. The company can set up a challenge at their location, or at a hotel room or vacation rental. For more information, call Catalina Room Escape at 310-510-2777, or call Escape Room Catalina at 310-510-8575.
The Catalina Aerial Adventure, which the Islander has profiled in the past, features a rope-and-plank course weaving through a grove of towering eucalyptus trees deep within Descanso Canyon. Other nearby adventures include the Zip line Eco Tour and the Catalina Climbing Wall.
* For those of you who like to stay on the ground, there's hiking. Catalina Island is ideal for hikers. Avalon and Two Harbors are grand places, but most of the Island remains only lightly touched by human beings. The new Trans-Catalina Trail, part of a 165-mile system of recreational roads and hiking trails, 27 miles of new trails, and refurbished restrooms. (As a safety precaution, don't get too close the edge of the trail and always have a charged cell phone with you. Rattlesnakes live on Catalina Island.) In related news, the Catalina Trailhead Visitor Center, being built in downtown Avalon. The center is expected to be completed in late 2018 or early 2019. For more information about hiking or other interior activities, call the Catalina Island Conservancy at 310-510-2595 or visit CatalinaConservancy.com.
To simplify your hiking plans, Catalina Back Country operates a concierge service for outdoor enthusiasts. The transports supplies and equipment. The company also offers naturalist-led hikes, sets up comfortable camping and can create an adventure expedition. For more information, call 310-510-1212.
Maybe hiking and camping aren't for you, but you want a change of pace from mainland cities. Two Harbors resort is known for being low-key and rustic, but it has undergone a face-lift, with a new sandy beach, plush palapas, lounge chairs, a group gathering place, food and beverage service on the beach and a small business center. (for those of us who need to do a little work before we can relax). You can take a Catalina Express ferry from San Pedro to Two Harbors. For more information, call Catalina Express at 800-613-1212 or call Visit Catalina at 310-510-4205.
If you like both the great outdoors and the comforts of civilization, you can also try one of Catalina Island's eco tours. There are all-electric buses operating on Catalina Island Company tours of Skyline Drive and on Inland Expedition tours. In addition to eliminating the need for diesel or gas, the buses have huge windows, air conditioning and quiet, smooth rides. For more information, call 877-778-8322 or go online to visitcatalina.com.
Catalina Express offers up to 30 daily departures and year-round service to Avalon and Two Harbors, transporting nearly one million passengers annually. For more information about Catalina Express and reservations call 1-800-429-4601, or visit www.catalinaexpress.com.