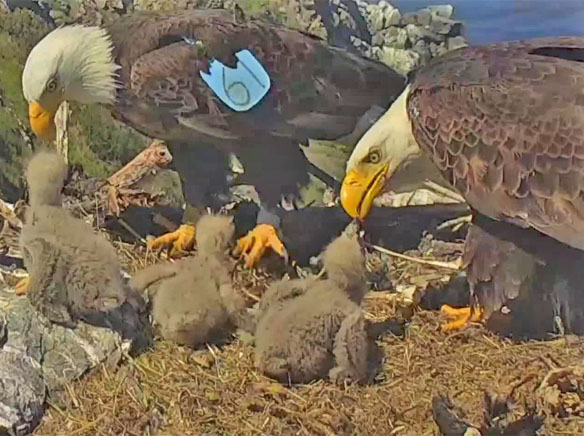 West End bald eagle couple hatch three young eaglets
News reports and the webcam that documents the lives of Catalina Island's bald eagles, named Thunder and Akecheta, show that the pair of eagles are now parents to three small eaglets, which hatched last week.
Thunder and Akecheta are part of a program by the Institute for Wildlife Studies that began re-introducing bald eagles back into the Channel Islands in 1980. The program was collective effort of the Institute for Wildlife Studies, the US Fish and Wildlife Service, the California Department of Fish and Game and the Santa Catalina Island Conservancy. According to the Institute for Wildlife Studies website, between 1980 and 1986, 33 bald eagles were released on the island.
Some of the birds became breading pairs and began laying eggs around 1987, but early eggs broke soon after being laid. The residual effects of the DDT dumping were found to be a major factor in the thin egg shells.
Extreme measures were taken to help facilitate the hatching of eggs, including removal of eggs and placement of artificial eggs for the birds to incubate, while the real eggs were artificially incubated, hatched and fostered back into the nests.
Since 1989, these types of efforts have helped dozens of eagles to begin life on Catalina. According to the website, many leave the island, are tracked and have been found as far away at British Columbia. Some have returned to Catalina after reaching breading age (about 4-5 years) and established territories. According to the IWS website there are at least six breading pairs and at another half dozen or so young eagles living on Catalina Island.
For more information on the eagles and other programs, or to view the eagles on Catalina via the webcams, visit iws.org.