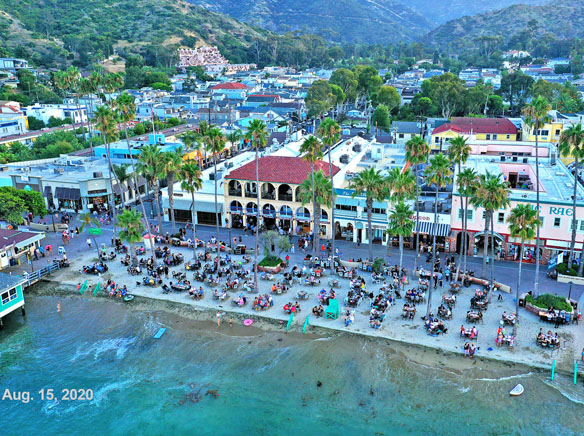 Visitors appear to be returning to Catalina Island. Assistant Harbor Master Orne Carstarphen confirmed that the harbor was full for the Labor Day Weekend. 
"This was a very busy weekend. (Sold out Saturday and Sunday) Patrol moored 358 boats from Friday 9/4 thru 9/7 with a total of 1,375 nights sold," Carstarphen wrote in a Sept. 8 email.
"Monday we saw many boats leaving however vessel traffic was high and patrol kept busy responding to assistance calls due to S.E. breezes of 15-25 mph most the day," Carstarphen wrote.
"From my advantage, it was busy," said Michael Ponce, general manager of the Seacrest Inn and a council member.
Ponce said he is sold out for next weekend, also. He did not visit "Front Street" (that's Crescent Avenue to visitors), so he couldn't speak to whether it was crowded.
Last week Ponce said that the bookings were last-minute. He reported the same thing this week.
Cinde MacGugan-Cassidy, who also works in the hotel business, also reported last-minute bookings.
"It was as busy as any summer Labor Day," Cassidy said.
"The streets were busy; restaurants were sold out," she said.
Cassidy said she believed the increase in visitors was a result of the combined influences of hot weather, wildfires on the mainland, and the limited ability to travel due to COVID.
Last week, Ponce speculated that people have reached the point where they need to get away.
Jim Luttjohann, president and CEO of Love Catalina Island/ Catalina Island Tourism Authority, thought it was too early to tell if this signifies a trend.
"It was our best weekend year to date based on sold moorings, hotel rooms and vacation rentals," Luttjohann wrote in a Sept. 8 email.
"The heat drove a lot of visits to coastal zones. The closure of the National Forest campgrounds may push more campers our way in the coming week(s). Boating remains a strong pull and will as long as fair weather exists. I'm doing some follow-up post weekend with hotels and restaurants and will share anything surprising one way or the other," Luttjohann wrote.
Luttjohann contacted a variety of sources about the Labor Day Weekend and passed along the following information:
• IEX flew 410 passengers on three helicopters over the weekend.
• Catalina Express had the busiest weekend of the year 2020 to date. However, because of enhanced cleaning procedures the cross channel carrier reported that the number of crossings was down year-over-year. Catalina Express boats ran at maximum capacity, which has been reduced due to COVID-19.
"Catalina Express transported over 9,500 passengers to Avalon on Friday through Monday for Labor Day weekend," Luttjohann wrote on Sept. 10.
• "Jeep tours proved to be among the most popular of activities this holiday weekend with most departures selling out per the Catalina Island Conservancy," according to Luttjohann's notes.
• "Camp sites around the island were booked solidly though not sold out," according to Luttjohann's notes.
"Overall we continue to enjoy great feedback on the outdoor dining on the beach and Descanso Beach Club, with many visitors asking that we keep outdoor dining option post COVID-19," according to Luttjohann
"In a restaurant survey issued by the Catalina Island Tourism Authority on Tuesday, 70% of island restaurants reported they utilized reservations and wait lists to accommodate peak demand, 20% implemented limited menus to speed ordering and preparation, 20% added seats just for the weekend and 45% reported utilizing the beachside dining program in Avalon. Online ordering was also used in many casual dining settings to speed food delivery for takeout," according to Luttjohann.
"Hotels and Vacation Rentals were very nearly sold out but with a few properties having reduced inventory available and two hotel properties closed," according to Luttjohann.
Capt. John Hocking, commander of the Avalon Sheriff's Station, also reported a crowded weekend in Avalon. "The holiday weekend was very crowded in Avalon. A majority of the visitors to the island were in compliance with the Health Department's social distancing and face covering order. There were a couple of isolated problems with visitors not wearing face coverings," wrote Hocking.
"One incident turned violent when a man not wearing a face covering assaulted an employee in an Avalon business. Several citations were issued citations for not wearing face coverings and drinking alcoholic beverages while walking around the city," wrote Hocking.