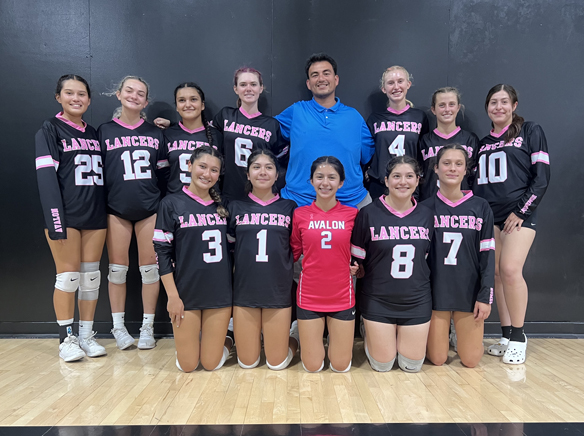 The Avalon Girls Volleyball team keeps progressing and moving forward. The Avalon girls' volleyball has established a great culture and has proven to be one of the dominant sports at Avalon High School. 
We are currently 19-8 and have secured a guaranteed top 4 spot in League to qualify for playoffs. The Avalon Lady Lancers just won 3 games this last week one against Segerstrom High School 25-20, 25-19, 27-25 this is a High School of 2,500 kids. They also defeated Fairmont Prep twice 25-23, 25-14, 25-18 and again 25-15, 27-25, 25-13.
Not only have they persevered through a pandemic, but they play in a conference with 4 leagues and every year they have moved up and overcame. In 2019 they were in the Express League and finished 8-0, then 2020 they didn't have a season in 2021 they went 8-0 in the Academy League and now this year in 2022 they are fighting for second place in the San Joaquin League.
This volleyball program is so much more than a winning culture it's about building teammates and raising everyone's expectations. It's about making sure that everyone on the team stays engaged, brings positive energy and is willing to play and role needed to see the team succeed.
It's all about the person you become, how many people you help & how you treat & respect those around you! It really has taken a village to see a group of young women succeed year in year out from teachers, administrators, bus drivers, parents, and fans.
All this is from girls who are homegrown (Catalina Island) none of them play club they are just hard-workers who don't settle to be nothing but great. Today, Friday Oct. 14 we will be celebrating our biggest senior volleyball class ever 7 of them. Join us at 5:30 p.m.