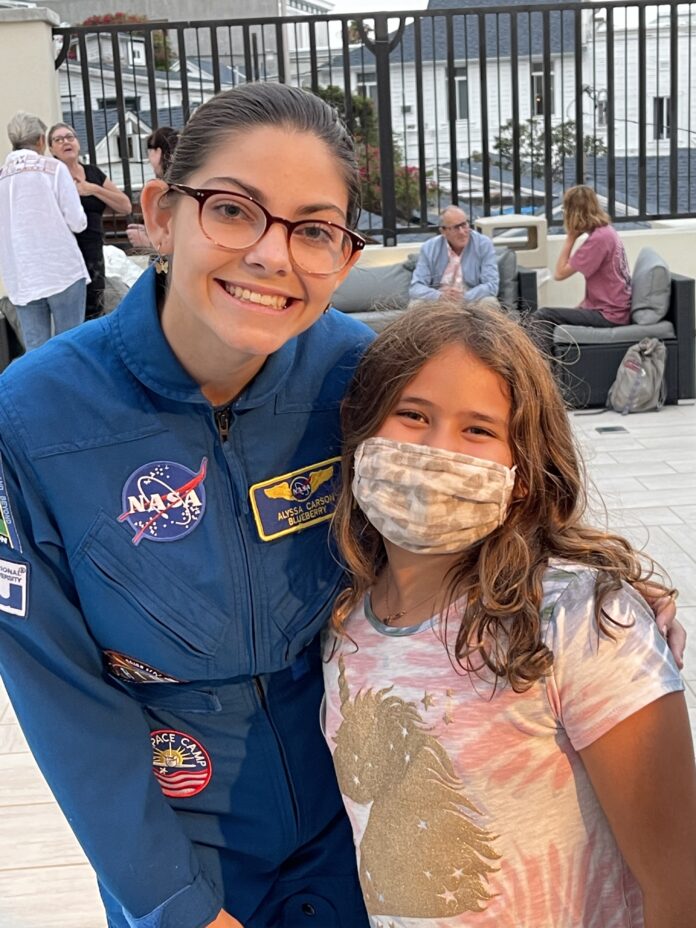 Alyssa Carson wows crowd at Catalina Island Museum
Staff report
The woman who wants to be among the first humans on planet Mars told a packed crowd on Catalina Island this week that space exploration and the technologies emanating from it are about to create abundant opportunities on earth.
Alyssa Carson, 20, spoke to an overflow crowd Thursday, Aug. 19 at the Ackerman Family Amphitheater at the Catalina Island Museum.
"We can really have a big impact on the next generation of kids," said Carson, noting that space exploration and the growing industry of space tourism are going to create millions of "space jobs," some of which have yet to be imagined.
"We're going to have a lot of really weird and fun space jobs that we don't even know about yet," she said.
Carson explained the evolution of the American space program from its earliest days through what is expected to be a quest for Mars somewhere near 2033, when Mars is expected to be closest to earth.
"I really want to focus on the next generation of kids because there are a lot of really cool things happening in space that bring a lot of opportunity to the next generation," she told the audience.
Carson emphasized while most people focus on "what's going on at the top of the rocket," the astronauts, most of the jobs in the space program include the tens of thousands of people it takes to build, maintain and guide the rockets in space.
And, with the space tourism industry taking off, there will be new jobs like space flight attendants, she said.
Carson said she will compete to become an American astronaut when she graduates from the International Space University in two years, after which she hopes to become a crew member for the first American space mission to Mars.
"We are the Mars generation," she said.
Until then, said Carson, she will continue her work trying to recruit young people, especially girls and women, to join the space program.
"Kids can contribute so much, including research, to the space program," she said. "It's really been amazing to a lot of younger girls becoming interested in doing the actual science that goes on up there," she said.
In terms of her own interests in science, Carson said she is mostly interested in astrobiology.
"Astrobiology will focus on looking for bacterial life where water would be the next step. I'm more interested in looking for bacterial life on Mars," she said, and by becoming an expert she said this would perhaps help her in the upcoming astronaut selection process, which she said was "pretty intense."
Carson spoke for about thirty minutes, yet the question-and-answer period from the audience lasted for an additional hour.
Before the event, the Bierman Brothers entertained the large group as Vezer Family Vineyards served wine and some in the group danced on the museum's rooftop waiting for the festivities to begin.
There were several young girls who came, including Mollyrose Dassa, from Calabassas, who said they had been inspired by Carson.
"I want to be an astronaut," said Dassa. Carson visited with each of them, signing autographs for them and urging them to stay focused on space.
Mayor Anni Marshall presented Carson with a Certificate of Appreciation from the city. "On behalf of the city, I want to present you with this certification. I don't think you'll have room to take it to Mars, but you can put it in your dorm room," said Marshall. "And it's not even waterproof."
"We want to thank you for being an inspiration to all future leaders and dreamers everywhere," the mayor told Carson before the event.
Gail Fornaisere, marketing director of the Catalina Island Museum, welcomed Carson to the event and thanked everyone for coming to the event.
She was introduced by David N. Young, former editor of the Catalina Islander, who organized the event and who introduced Bert Carson, Alyssa's dad, who in turn introduced Alyssa to the amphitheater's crowd.
Earlier in the day, Carson visited the Avalon Diving Exhibit and met with Jon Council, who gave her a guided tour of the dive museum, even showing her mementos given to him by the first female astronaut aboard the NASA space station. Carson and Council exchanged gifts, she gave him her own challenge coin and Jon gave Carson a vintage diving gauge that could be worn as a watch.
Gail Fornasiere, the museum's Deputy Director of External Affairs, said "The Catalina Island Museum was thrilled to play a part in bringing this driven young woman to our community. We hope she inspired folks of all ages to embrace the future of space. We certainly can't wait to see what she and the rest of the Mars Generation will accomplish!"
Regarding the event's music preceding the event, Fornasiere said "the Bierman Brothers provided such a great atmosphere to the event. We look forward to their next performance on the island."