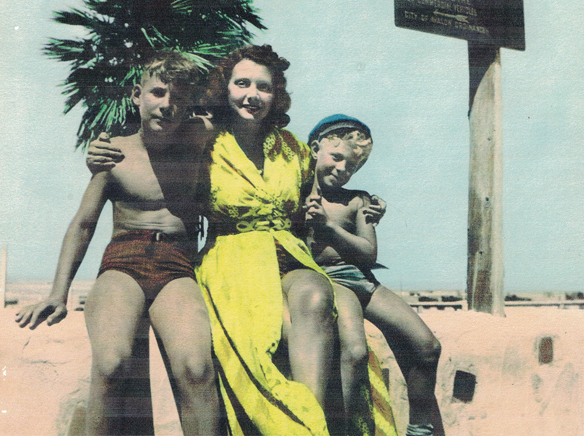 Like a lot of Southern California residents, the Silvers family made frequent trips to Catalina. But the Silvers family were more than just visitors, they would moor their boat in the harbor and spend the entire summer on the island. And when the weather warms, Gary and his wife will return the boat to the island to spend as much time as they want in the warm island weather.
For Gary, it harkens back to his childhood in the 1930s, when he and his brother, Don, would be seasonal residents of Catalina, spending their summers swimming and playing on the island. Gary considers the island a second home.
"I grew up on the island every summer," Gary said.
Now 89 years old, Gary Silvers remembers diving for coins near the big white steamer when it was docked. He also remembers days before golf carts roamed the island, but people could rent pony carts to get around the island. There were no age or driver's license requirements at that time, he said.
"A little kid could rent it," Gary said.
Gary's father, Matt Silver, owned the boat that the family took to the island, where they would rent a house for the summer. They would go every summer, but he remembers when the island was closed to visitors during World War II and that was the only disruption of their annual trips. Once the war was over, the resumed their summer stays.
As a child he remembers looking out over the harbor at all the boats and vowing to one day own his own boat to bring to the island. He realized that dream in 1967, when he bought his first boat, called "Dad's Toy," and then a mooring on the island. Later, he would get his current boat, called "The Hide Out," and his current mooring, No. 66.
"We call it 'Route 66,'" Gary said.
Gary's father started the clothing business, called Mattsons' of Hollywood, which began supplying clothing for movie productions in the '30s. Gary and his brother took over the business when their father was ready to retire, and they continued the family business until closing up the store. Gary went into the commercial real estate business, which he still does today. But he still owns some fond memories of the store.
"I sold James Dean his red jacket for 'Rebel without a Cause,'" Gary said.
Gary, who lives in the Hollywood Hills, remains active, playing tennis and swimming almost every day. During the winter he goes skiing and has a trip to mammoth coming up soon. But when the weather warms, he will take the boat to Catalina. Moor it for the summer and take the Express back and forth whenever he wants to spend some time 'growing up' on the island again.