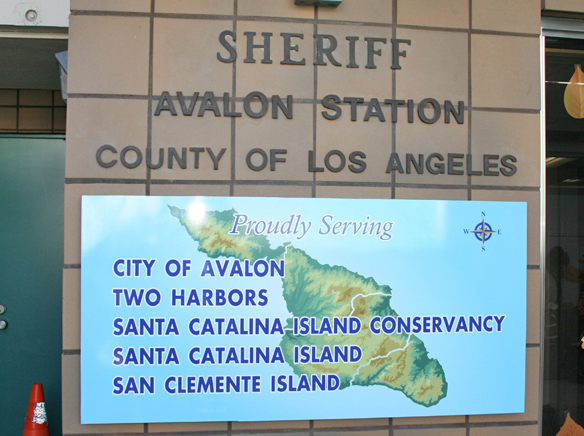 Editor's note:
The following is the Avalon Sheriff's Station significant incidents report for the week of Dec. 29, 2020 to Jan. 5, 2021
All suspects are presumed innocent until proven guilty in a court of law.
Many people who are arrested do not get prosecuted in the first place and many who are prosecuted do not get convicted.
December 22
• Deputies responded to the 200 block of Marilla Avenue regarding a possible
December 29, 2020
• Deputies responded to a family disturbance call at Bird Park Apartments. Deputies ended up arresting Adrian Meison, 18, of Avalon on suspicion of being under the influence of a controlled substance, stimulant.
December 30, 2020
• Deputies conducted patrol checks on Pebbly Beach Road regarding complaints of speeding motorists. Please drive slowly, safely, and do not drink alcohol and drive.
December 31, 2020
• Deputies and the fire departments responded to Wrigley Road near Pebbly Beach Road regarding an overturned golf cart. Deputies learned the driver rolled the golf cart over injuring the passenger who had to be airlifted off the island. Deputies arrested the driver, Scott Irwin, 26, of Rancho Cucamonga, on suspicion of drunk driving which caused serious injury.
January 1, 2021
• Deputies and the fire departments responded to an overturned vehicle on Airport Road, 2 miles west of Middle Ranch Road. Deputies learned the motorist lost control of his vehicle crashing through a wood fence and down a large embankment. The driver was able to climb back up the hill and requested help. The driver was not seriously injured. Alcohol was not a factor in this traffic collision.
January 2, 2021
• Deputies received a call from the Avalon Harbor Patrol regarding two individuals that were illegally taking abalone from the ocean. Deputies arrested the two men, Devin Tolentino, 27, Carlsbad and Roberto Recendez, 27, both of Carlsbad, for taking the protected animal.
January 3, 2021
• Deputies received a call regarding an ex-wife stealing her ex-husband's mail from his PO Box at the post office. Deputies are conducting an investigation.
January 4, 2021
• Deputies checked the east end of the interior of the island for a transient who had reportedly been illegally camping in the area. It appeared the transient had packed up and moved from the area. The Sheriff's Department had offered him homeless services in the past, but he has refused to accept them.
January 5, 2021
• Deputies, the fire departments, and Southern California Edison responded to the 100 block of Banning Drive regarding a possible gas leak. The area was checked and no gas leak was found.
Safety Note
• Please make sure you make reservations when using the Catalina Express boats. By making reservations, instead of just showing up at the dock, allows the Catalina Express to use the appropriate vessel.