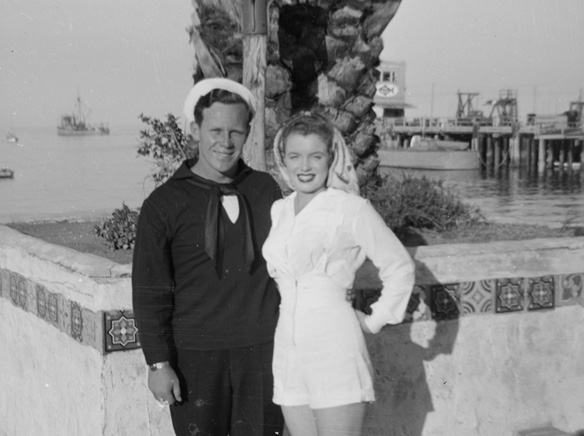 While it is sometimes hard to determine the truth, reading Jimmie Dougherty's memoir of his life with Norma Jeane on Catalina reveals certain events and potential insights regarding the later transformation of his teenage bride into Marilyn Monroe.
There are two anniversaries in June that mark the life of Norma Jeane Baker, who moved to Catalina Island as a teenage housewife in 1943 and left less than a year later to become Marilyn Monroe.
Norma Jeane Mortensen was born June 1, 1926 and was baptized Norma Jeane Baker three months later.
Norma Jeane was the otherwise non-descript third child of Gladys Baker, who struggled with mental health issues and reportedly suffered a nervous breakdown in 1934 which meant a life of orphanages and foster homes for her child.
Although her mother Gladys did her best to provide for Norma Jeane (including bringing her to Catalina Island and visiting the Casino as a child), Norma Jeane to numerous foster homes, reportedly incurring a litany of horrors along the way, including sexual abuse.
Nevertheless, to escape the foster home circuit, 16-year-old Norma Jeane married James "Jim" Dougherty June 19, 1942, nearly 80 years ago this week. Dougherty was simply a neighbor of the foster parents who were moving east, who suggested she marry him if she did not want to go with them.
The newlywed 16-year-old woman prepared as best she could for life as a housewife. She dropped out of school and dedicated herself to her husband. Dougherty was thrilled. "I felt like the luckiest guy in the world," he would later say. "We loved each other madly."
Norma Jeane's version of the story, told later, was not as reciprocal. "My husband and I hardly spoke to each other," she would say years later, after she'd become Marilyn Monroe.
Yet, if Dougherty's book ("To Norma Jeane, with Love, Jimmie") is to be believed, their life on Catalina was at least enjoyable, and his antidotes provide the reader with a glimpse into the life of the woman who later become one of the most famous women in the world.
Even he, however, admits that he did not entirely know the woman he married. "I never knew Marilyn Monroe, I knew and loved Norma Jeane."
"I regret now having done what came next…"
According to the book, Dougherty joined the merchant marines during World War II without telling his teenaged bride.
"'Please Jimmy, don't do this,' she wept," after Dougherty eventually told her what he'd done.
But then, when Dougherty found out his first "permanent assignment" would be Catalina Island, they both were ecstatic.
"And then a miracle, maybe some would think it was a small one but perhaps a fluke but it was as if we've been handed a basket of diamonds," writes Dougherty, when "I discovered that I'd been made part of the ship's company on Catalina Island where I would be staying as my very first permanent assignment."
"I couldn't wait to get to a phone to say, 'Hey baby, I'm going to bring you over here we'll be together.'"
"I found an apartment for us," Dougherty claims in the book. He said "our little apartment looked straight across at the mansion [on Mt. Ada] built by one of the Wrigley heirs."
"Sometimes, Norma Jeane and I would sit on the terrace of our apartment and gaze at the huge home. We'd hold hands and dream and talk about owning a home like that one day, and we'd fill that home with kids and spend the rest of our lives there in happiness."
While there is no definitive proof, the home at 310 Metropole is visited annually by hordes of tourists who think that is where the Doughertys' made their residence. According to Catalina Island Museum spokesperson Gail Fornasiere, an exhaustive search was performed in an attempt to locate the actual residence, but historians could only find a post office box where the couple received their mail.
The Catalina Island Museum has nevertheless accumulated a tremendous amount of information about Norma Jeane's life on Catalina, and even gained national attention for an exhibit entitled "Before she was Marilyn," held during the summer of 2011. There is still an exhibit on display.
Dougherty claims in the book that it was his decision not have children with Norma Jeane, a decision which he thinks could have changed the direction of her life. Dougherty said Norma Jeane would often care for his brother Marion's two children and "played with them endlessly."
"I'd think to myself, 'Oh look, what a wonderful mother she'd be one day,' because I knew how desperately she wanted a baby," he said. Even after suffering miscarriages with later husbands, Doughtery claims "somehow, I could feel that pain, even though we were permanently out of each other's lives."
"I have sweet memories of our time in Catalina," says Dougherty. "The homes dotted about were soft pastels. Everywhere we looked we saw softly colored beauty. The flowers and water, the homes, the way people dressed, Catalina for us was a paradise."
Even though the tiny apartment came furnished, Dougherty said Norma Jean added small touches to make it look more gracious. "I remember all the plants she bought and cared for. I remember that she put most of her doll collection away. My Norma Jean was growing up," he said.
Norma Jeane kept a spotless home, he said, and was always ready with a belly laugh. Dougherty remembers stubbing his toe one night "and she began to laugh wildly. You could always count on her with a good, hearty belly laugh."
"And then one day our friends gave us Muggsie, a collie with a long brown, white and golden coat, and Norma Jean kept her just as freshly scrubbed as she kept herself," said Dougherty.
"Norma Jean didn't have an awful lot to do while I was away at work. She was always a perfect housekeeper and I was never ashamed to bring anyone home. The place shown. She loved doing that, Norma Jean took great pride in keeping a shining clean home," claims Dougherty.
In 1943, when Dougherty and Norma Jeane lived on the island, he remembers the Tuna Club and the Bird Park when it was still filled with birds.
"It was filled with every sort of exotic bird; I remember a crazy Myna bird in that park that would give out a 'piercing whistle' every time a girl walked by. We laughed so hard at that nasty old bird."
"It was a paradise back then for my beloved bride and me. We explored the entire Catalina Island whenever we could. We knew our days together were numbered, that in time I'd be leaving, but we didn't speak of that we ate, when we thought about being separated in each other, and so stayed close and lived in love for the minutes that we had left," he said.
Dougherty and Norma Jeane lived on Catalina during World War II, and even though the island was off limits to most civilian life, the increasing military presence populated the island with recruits and soldiers from a variety of units.
Dougherty would train the recruits during the day.
Soon, however, Norma Jeane's natural beauty soon began to attract the attention of the many recruits and soldiers on the island.
"Norma Jean loved to wear white. She would wear pure white dresses, or white slacks or shorts with a white blouse. She kept these clothes in Immaculate condition. It's hard to explain, so hard to explain, but the sex appeal people speak about when they try to describe Marilyn Monroe, it really existed," said Dougherty, even then.
"Honestly she could just turn it on and the appeal would come out," he said.
"I've read that (after becoming famous) she could be Marilyn, or she could choose to not be. She could walk down the street of a very busy city without being recognized at all, but then turn to her friends and say, 'You wanna see me become her, watch this.'"
Dougherty remembered Norma Jeane seemingly learning to become Marilyn as "she would change before their eyes. It would all begin to ooze from her," said Dougherty.
"Sometimes when she would be all in brilliant white, she would put a brightly colored ribbon in her thick, curly dark blonde hair and it would be a lovely contrasting touch of color," as Dougherty writes that on several occasions, he noticed the eyes of the military men as Norma Jeane would walk to the commissary or walk on the beach.
"She turned a lot of heads," he remembered as if it was a precursor of things to come.
Later, during one particular dance inside the Casino, Dougherty does remember a touch of envy as during one particular dance, he said a sailor cut in on him and Norma Jeane, then another, and eventually he left as it seemed every soldier there wanted to dance with his wife.
There are many examples during Dougherty's memoir that provide historians a glimpse of the life to come, and it is perhaps no secret reading his book why Marilyn loved entertaining the troops during her later career. As evidence during her days on Catalina, they loved her and she never forgot her love for them.
There are other interesting hints of things that happened on Catalina that could have played a later role. One of the longtime projectionists inside the Casino Theatre has said Norma Jeane would curl up in the projection room and endlessly watch the latest movies.
Eventually, as they expected, Dougherty was shipped out to sea for the remainder the war. Norma Jeane and her collie Muggsie left the island less than a year after moving there, but the memories, speculation and innuendo persist.
Norma Jeane's side of the story is less well known, and perhaps divergent, but Dougherty's book does present interesting correlations that seemingly provide an early glimpse at her future in show business.
After Dougherty shipped out, Norma Jeane moved back to the San Fernando Valley, got a job with a defense contractor, was discovered by a photographer, began modelling and we know the rest of the story. l
Perhaps their life together on Catalina Island will forever remain somewhat of a mystery, but what is clear that while on the island, Dougherty's teenage bride matured, discovered secrets within herself and found the keys to fame and fortune.
She left Catalina Island as Norma Jeane, destined to become Marilyn Monroe around the world.