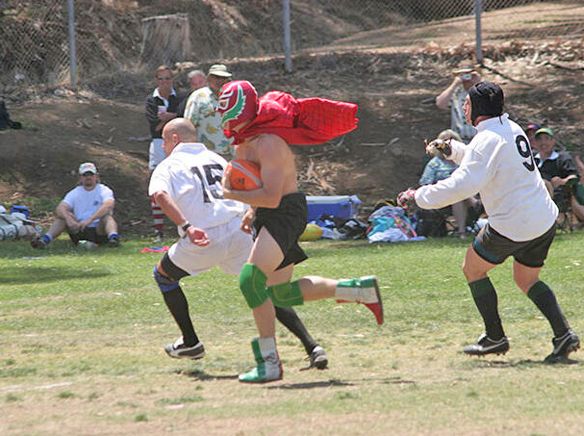 The Catalina Island Rugby Festival is returning after last year's event was postponed due to the COVID-19 pandemic. The rescheduled event will take place on Sept. 18, 2021. An overflow crowd is expected. This "Old Boys" Festival (age 40+) is a fundraiser for the Cancer Support Community of Redondo Beach, and the Los Angeles Rugby Club.
Originally started by Joe Hendrix in 1992, this will be the 28th year on the Island. Many residents of Avalon are well aware of the Festival after Joe was diagnosed with cancer and all the related effects Joe started the fundraising aspect of the Festival. After Joe passed away from his 11-year battle, his twin brother Tom took over administering the Festival.
Over the years, teams have come from Australia, Canada and all over the western US. This is a very social event. No championships as all teams are guaranteed 3rd place. This year's Festival has 10 men teams, an Over 50 match at mid day and the first Old Girls (age 35 +) section. One of the highlights should be the Alumni reunion from the Southern Calif Club Champions 1968 and 1969 which were held on Catalina.
This year visiting players will be arriving from such diverse locations as Texas, Arizona, Kansas, Oklahoma, BC Canada and my favorites from Mexico City who join up with the Berkeley Rugby Club. This Festival has been touted as the "most social rugby event."
Joe Machado Sports Complex will be a magical fun destination on Sept 18. Also, a golf tournament was projected for the next Catalina Rugby Festival tentatively scheduled the on the Friday before next year's Festival.
With sponsorship from Luau Larry's and The Seaport Village Inn, this year's Festival should be well attended.
Check the website Catalinarugby.org for inquiries.